Easy weddings is Austrian's leading wedding directory website. If you one of the marrying couples, you can find most of wedding related information on Easy weddings' website, including wedding venues, dresses, photographers, cars, celebrants, DJs, florists' price and etc.
In addition, Easy weddings provide lots of informative blogs to inspire bride's idea. For instance, how much does a wedding cost in Australia? How to organize your wedding day timeline? Questions to ask your wedding photographers. Most of the hot topics, Easy weddings would give the bride and groom clear and detailed answers.
On the other hand, if you are wedding vendors, wedding venues owner, wedding photographers, videographer, florist who want to get more business. You can list your business on Easy weddings to get more exposure to your potential customers.
In this complete Easy wedding guide 2021, I researched and analysed Easy Weddings into 3 parts.
   1. For real bride and groom, I will discuss whether Easy weddings is a trustworthy, time saving and quality website by comparing it to other information source sand platform: for instance, Google search, social media (Facebook and Instagram) and another directory
  2. For wedding suppliers and business owners, I'll review whether Easy weddings is worth to invest money to Easy weddings, how much traffic and enquiries you can get from Easy wedding. I would give you accurate figure to prove my standpoint from last 5 years of statistics carried out by professional tools.
  3.In the last part of the report, I will compare Easy weddings with its biggest competitors in the Australia market, for instance, Hello May, Wedding Diaries, Ivory Tribe on their traffic, marketing trend and target audience. Regard to different wedding suppliers, you pay different listing prices to be exposed on Easy weddings and its competitors, so you would get to know which website and platform offer more ROI.
Furthermore, I'll use 5 proved methodologies to forecast the prospection of Easy weddings's business in next 5 to 10 years.
What is Easy weddings?
Easy Wedding is Australia's number one wedding directory website, thought leaders, blogs, and content creator. In 2018, Easy weddings also developed its own App, providing more timely response and convenient information for bride and groom.
Easy Weddings Information Outline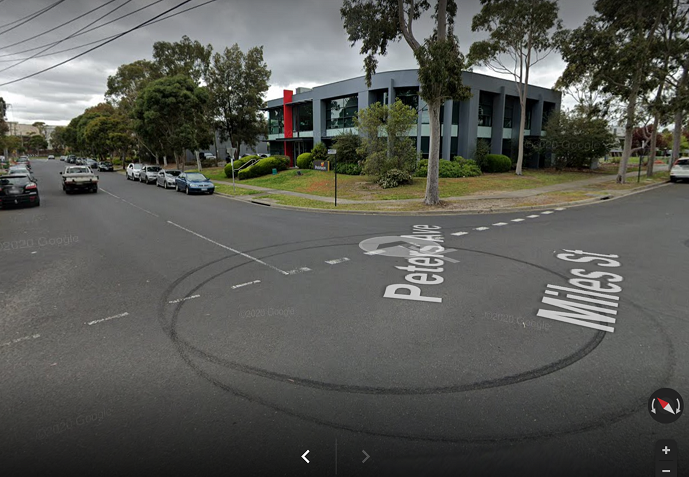 Easy wedding head office information
Easy weddings' head office is located in Melbourne, Australia. Easy weddings' head office is industrial building.
Easy weddings address is 18 Miles St Mulgrave Vic 3170
The property was sold at $1.45 million in June 2002. Since 2002, from the past history the property has sold again in the market at 1.87 m on 2nd June 2014 again.
Land size is 1,812 m², floor aera is 776 m². Council is Monash.
There are plenty of unlimited parking available near Easy weddings' head office.
Easy wedding operating hours
Monday to Thursday             9am -5:30 pm
Friday                                       9am-4:30 pm
Saturday and Sunday            Closed
Easy wedding contact number
1800 155 122
For general enquire you can email to
service@easyweddings.com.au
If you are wedding suppliers, you can email to
sales@easyweddings.com.au
Easy weddings' sale team always respond to the wedding suppliers enquires within 5 minutes.
Easy Weddings' history 2000-2021
The Easy Weddings CEO is Matt and Katrina Butterworth. They co-founded Easy Weddings in 2000.
The Easy Wedding launched its website in 2000 and it has more than 20 years history until 2021.
Before Matt Butterworth established Easy wedding, he was a manger of wedding, corporate function from 1990 to 2000. Matt first 10 years job in wedding function provided him the knowledge of wedding industry.
Matt Butterworth's education background
Spherion
Diploma business system
2000-2002
William Angliss Institut
Diploma in hospitality Management
1997-1999
RMIT University
Computer Engineering
1995-1996
Kurunjang Secondary College
VCE Computer
I researched Easy weddings' old website from 2002 to until now (2021). Through the internet browser, I was able to interpret Easy weddings's home page design movement, navigation, colour theme and logo.
Easy Wedding website evolution 2000-2021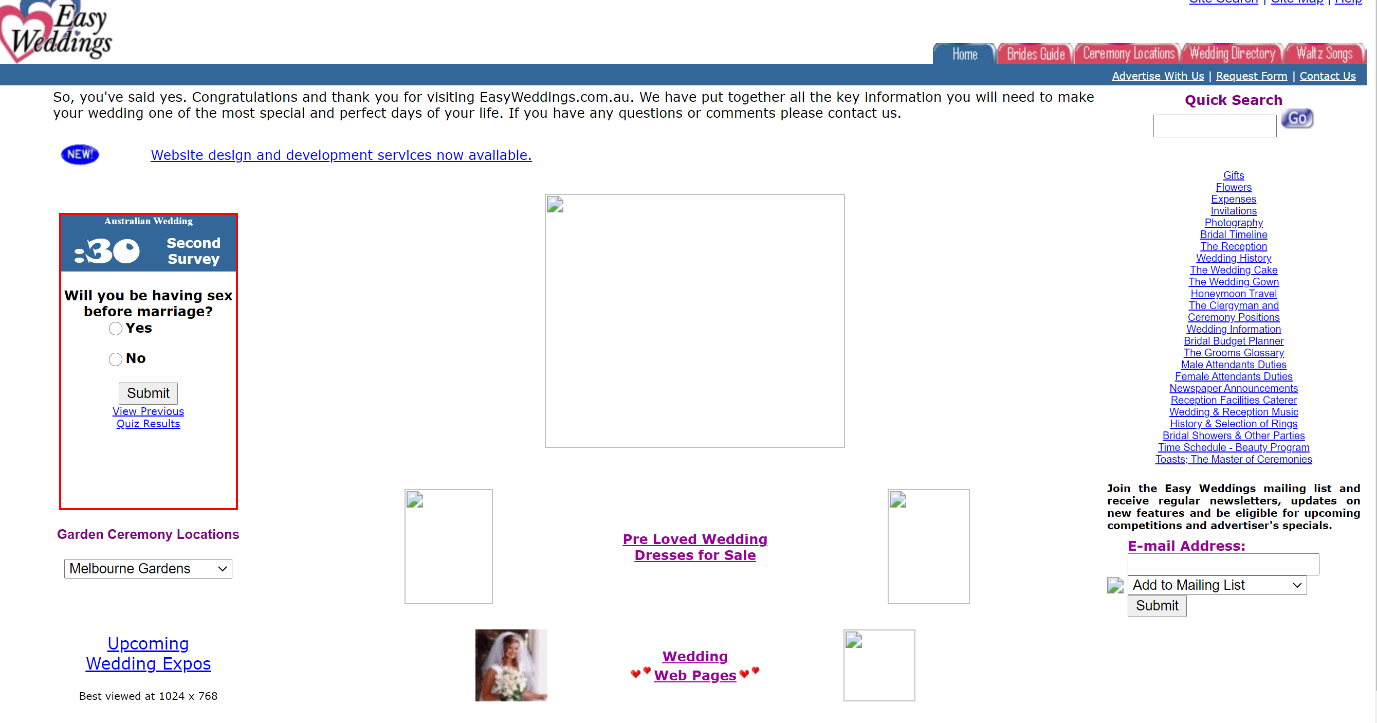 Easy weddings' home page in 2002
We can see Easy Wedding's initial website got more sense of website designs in 20 years ago. The website was not quite user friendly, However the bottom line, you can still access navigation option on the top bar.
The logo of Easy weddings comprises colours including coral pink and navy blue. In the next 20 years, Easy weddings still keeps the pink as its branding's prime colour.
From the navigation option, the top bar divides to 4 parts which it includes wedding directory and some wedding guides. Therefore, we can get to know Easy weddings' business is content creator, except only provide the list of wedding suppliers.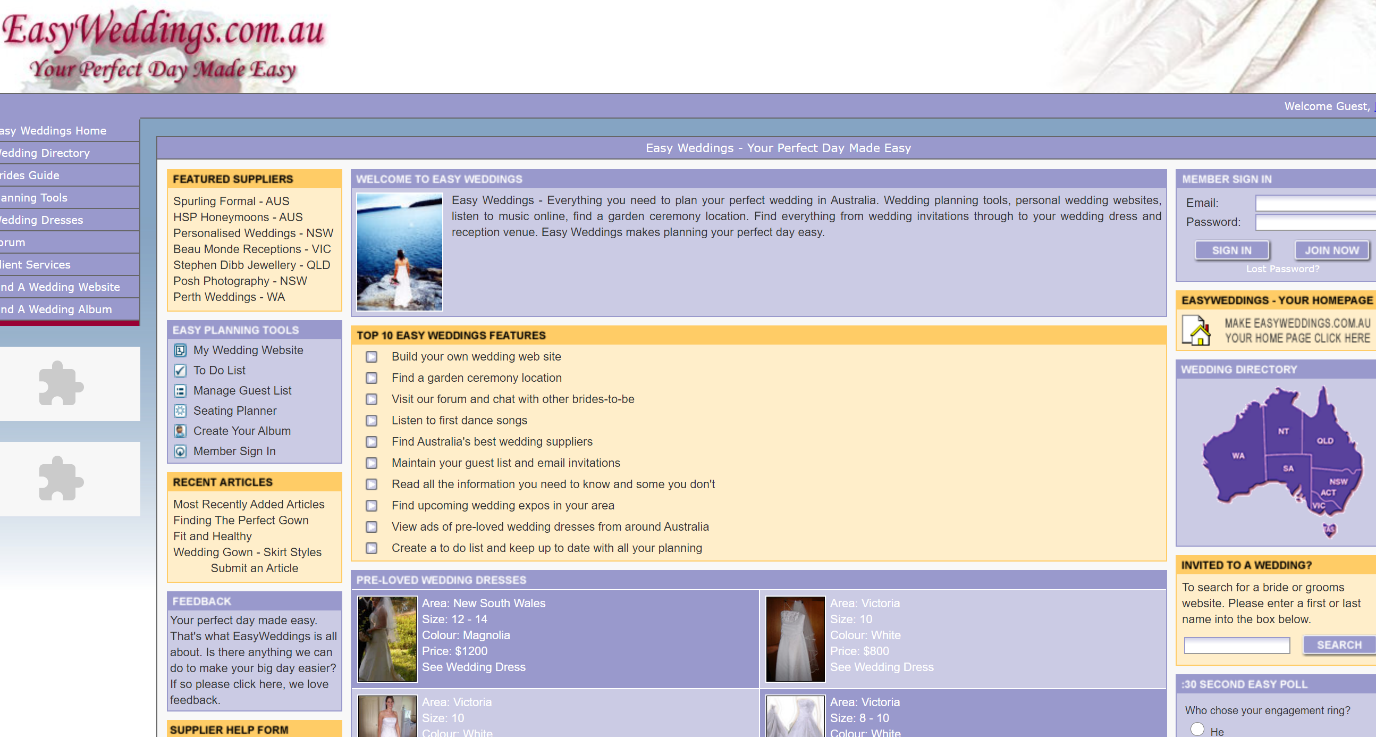 Easy wedding home page 2006
Now, the time came to 2006. Personally, I do not think it was a good change for Easy weddings. One of biggest mistake on the Easy weddings' 2006 home page is the confusing website structure.
I got confused on knowing whether Easy Weddings is a blogger website or a directory website. There is no clear and logical navigation to give users directions towards their desired information.
They listed some useful content, for instance, garden ceremony location, listen the dance songs, Maintain the guest list on the central of website. I suppose these are key elements which Easy weddings wanted to put as priorities. However, I still don't understand what the web developer wanted to show me.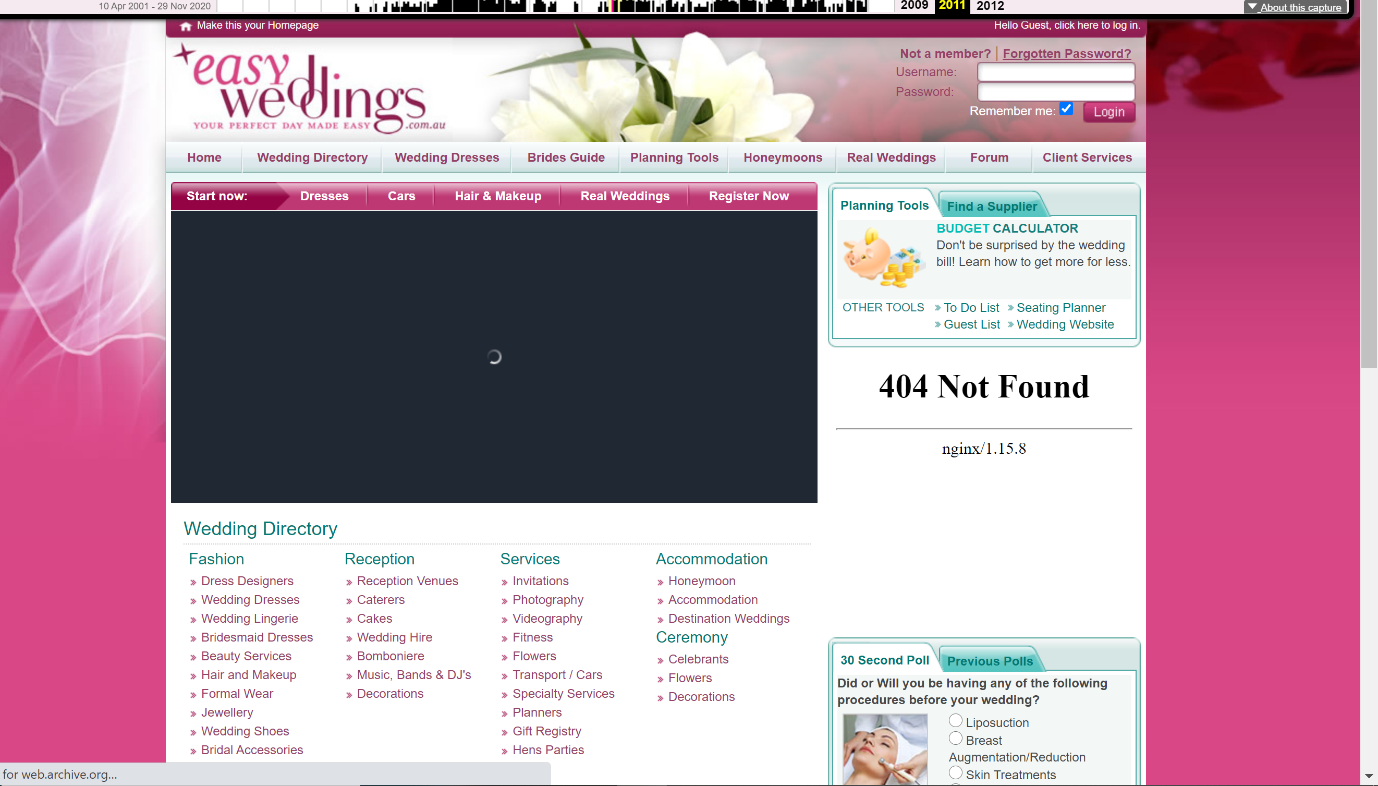 Easy weddings home page 2011
Easy weddings did not recognize its website mistake until 2011. At the same time, they change its branding design, such as Logo, colour theme and website layout.
They removed the secondary colour navy blue and only used the pink and soft pink for its logo and website theme colour.
Easy weddings website appearance transformed into a more simple and modern design and clear navigation gave the bride and groom better experience.
In 2011, Easy Weddings also introduced its useful wedding tool 'budget calculator' which it remains as one of the most important tools for the company nowadays. This tool lets the bride and groom take more control of the wedding budget but enabling them to estimate and overlook their wedding budget by putting all the vender costs together.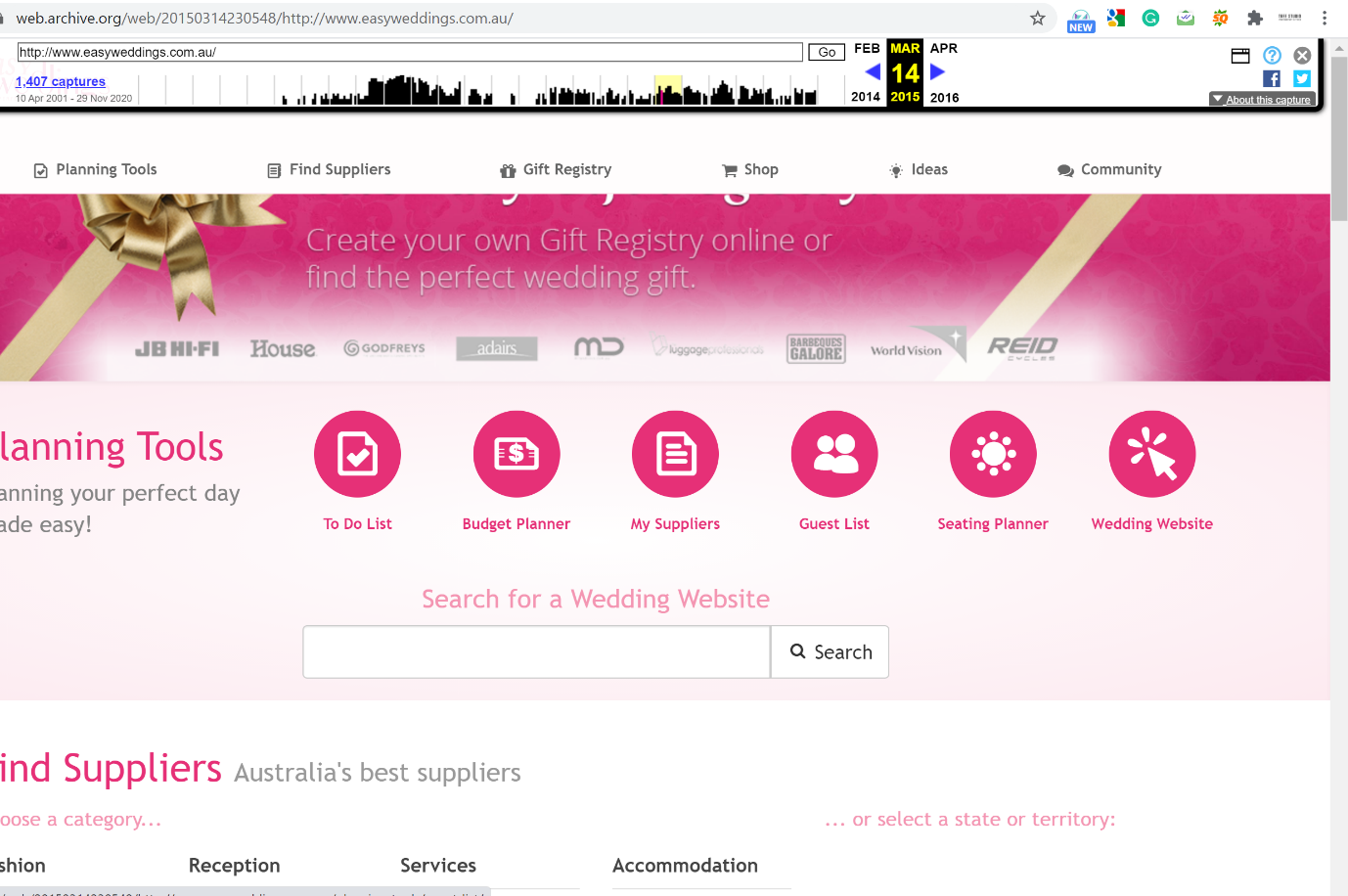 Easy wedding home page 2015
However, when the time came to 2015. Easy wedding removed its website hero image instead of a central point of image. They stuffed the icon of 'To do list', 'Budget Planner', 'My suppliers' and etc.
Apparently, Easy Weddings wanted to give users more options when they are browsing its website. However, the elements did not have clear relationships with each other and when the user got the multitask, they would feel overwhelming.
Even worse, trying to make extra passive income, Easy Weddings decided to provide a display Ads on its home page and even on the top of page. We can see from the screenshot, the display business including JB Hi-Fi, House, Reid.
Regard to these two factors, the user of bride and groom has less optimum experience and Easy Weddings didn't perform well in 2015.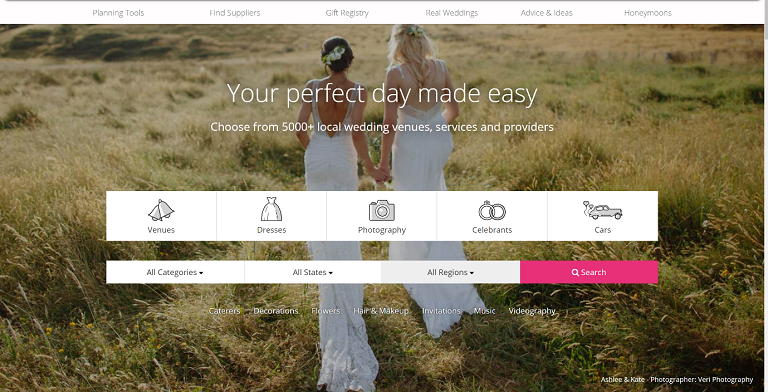 Easy wedding home page 2018
In 2018, Easy Wedding had a significant improvement. Following the website trend, Easy Weddings' website transformed into a more simple, modern and clear design.
The home page provideed some key wedding suppliers, such as venues, dresses, photography. The pink search bar gives bride and groom quick way to gathers the information they are seeking.
We can see Easy Weddings had more clear hierarchy on the website structure in 2018.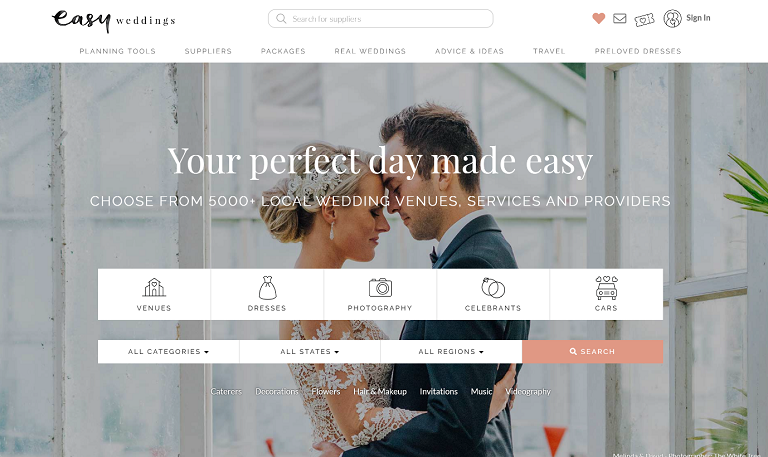 Easy weddings home page 2021
In the latest version of Easy Wedding website and branding, they changed its logo colour again. Easy Wedding remove its traditional pink colour which it almost used 20 years. The logo change to black and white. Likewise, the website colour transformed into fresher and airy colours.
There are two reason Easy Weddings made this big change. Firstly, they wanted to follow the wedding industry simple and elegant trends. Secondly, Easy Weddings intend to cater to broader audience, from younger brides to bride's who ages more than 30.
Sometimes, certain colour themes, for instance, pink, blue, yellow will not be appealing to everyone. However, the neutral black and white satisfies most bride's aesthetics perfectives.
What happen with Easy Weddings from 2000-2020?
2000 Matt and Kat established Easy Weddings in Melbourne and launched the website
2002 Easy Weddings got its first Victorian advertises.
2005 Matt and Kat quit their job and focused on Easy Weddings business
2006 Easy weddings hired its first employee
2007 Easy Weddings got 1000 wedding suppliers on its wedding directory
2010 Easy Weddings got 18 employees in its Mulgrave office
2014 Easy Weddings got 4000 wedding suppliers
2015 Easy Weddings was launched in UK and moved to a bigger office in Mulgrave
2017 Easy Weddings' IT department launch its own CRM system
2018 Easy Wedding lost its big client- Tree studio
2019 Wedding Diaries challenged Easy Wedding market position
2020 Vogue Ballroom took lots if top 1 ranking over Easy Weddings on Google
As bride and groom, whether Easy Wedding is a good website on plan wedding?
After you read the first section about Easy Weddings' companyoutline and history, founder and their business activities.
In the second section, I'll write the insight of Easy Weddings for bride and groom. If you're one of the wedding suppliers, advertisers or Easy Wedding's competitors (Hello May, Tag venue), you can skip this part to read the Easy weddings market analyse at section 3.
However, I still suggest you can have a quick read on insight of Easy weddings to the end user:the bride and groom. Once you understand how bride and groom use Easy weddings for their wedding plan and search journey, how they respond to the website. You can learn one or two things from Easy Weddings. Obviously, you can use Easy Weddings' strategy on your business.
For real bride and groom, I want to discuss 4 important factors when your intend to use Easy Weddings to find your wedding suppliers or getting information from it.
     1, Whether we can find suitable wedding suppliers on Easy Weddings?
     2, Can we get useful information or wedding guide, tips from Easy Weddings?
     3, Can we save money by using Easy Weddings?
     4, Can we save time by using Easy Wedding?
1.   Whether we can find suitable wedding suppliers on Easy Weddings?
Weddings are not like our daily shopping tasks like retails, restaurants or pubs. We can go to our familiar places to get the services and productions. During the daily purchasings, if we use more familiar businesses, we can usually get above average services to our buying expectation due to the past experiences.
Wedding is a one-time consumptive activity for one bride and one groom, we have to gather information from newspaper, magazine, wedding expo, google, wedding dictionary website, or social medias.
In digital era, Easy Weddings, Google, social media those kinds of sources have overwhelmingly surpassed the conventional media sources such as bridal magazine, paper media or wedding expos.
Bride and groom are easier and freer to gather information from Easy Weddings rather than magazine and wedding expos. Firstly, you don't need to buy magazine or wedding expos tickets.
In addition, regarding to the magazine limit and wedding expos limited space, you can't get all the wedding suppliers' information at one time. Simply because, some great wedding suppliers would not use magazine or wedding expos to promote their businesses.
Therefore, generally we can say if you only gather as much as possible wedding supplier's information and lists, Easy Wedding is a better platform than traditional media, paper media and wedding expos.
Now, we'll discuss the comparisons between Easy Wedding and its peers or so-called competitor. In here, we only discuss the major competitors, and the competitors are only Australia market oriented. The world-wide wedding directories usually do not give Australian bride too much value.
Easy Wedding VS Hello May and Ivory tribe
There is no doubt, Easy Wedding has more wedding suppliers than Hello May and Ivory tribe. I use wedding photographers as an example. If you are a Melbourne bride, you can find 81 wedding photographers on Easy Weddings' list, 29 wedding photographers on Hello may, 53 wedding photographers on Ivory tribe.
The data I got on Jan 2021, the number of wedding suppliers would be floating up and down. But, in the long run, Easy Weddings has more wedding suppliers than its competitors.
However, as bride and groom, we shall not only focus on the number. Because our ultimate goal is finding one wedding suppliers from each sector, a greater number of wedding suppliers available only gives us more options but it is not definitively related to getting a suitable wedding supplier.
To further research, we found Hello May and Ivory tribe are collective wedding directories. What does mean?
If you run a new business or the business model does not match with Hello May and Ivory tribe's expectation, they won't list your business on thier website. But on the other side, every business pays for Easy Weddings, they can advertise their business on Easy Weddings.
Except the advertiser on one service or production, Easy Weddings has 33 categories from wedding venues, florist, photographer, accessory, honeymoon, Lingerie to shoes. Hello May has 31 categories, Ivory tribe has 18 categories. Therefore, you would have more comprehensive wedding suppliers on Easy Weddings.
The other factor which I find interesting is, the wedding suppliers on Easy Weddings provides relatively cheaper packages than the other two  website's vendors.
The wedding suppliers on Hello May and Ivory tribe tag themselves as exclusive wedding business and they target on high end weddings. You would spend more money if you're looking wedding suppliers on Hello May, Ivory Tribe. In return, you get exclusive services.
Easy Weddings VS Google
Though Easy Wedding is number one wedding directory website in Australia, Google is best search engine in the world. If you want to get as much as information as possible, Google can provide almost everything and Google encompasses all Easy weddings' suppliers and even more.
The other advantage of Google is it provides you with more accurate results than Easy Weddings. Easy Weddings only provide you limit filter when you want to find a more specific result. For instance, Easy Wedding only has price range and location filter to narrow down your search results.
Some bride and groom want to find more specific search, for instance rustic wedding venues, Asian Catering, female wedding photographer. Easy Wedding does not provide this option to narrow down your options.
Bride and groom can use the long tail keywords to seek more precise results from Google.
Easy Weddings VS Instagram and Facebook
We can consider the Instagram and Facebook as one same company, Facebook bought Instagram in 2012 for $1 bn.
Instagram offers organic posts and sponsor advertisements. I have to admire Facebook has the second best algorithm (Google has the best algorithm),Instagram and Facebook can provide you with more accurate service and price range to you which it according to your behaviours, gender and income.
That means, you wouldn't think about when you use Instagram and Facebook to make a purchase. Instagram assist you to get the answer and filter the unnecessary information. On the other hand, when you use Easy Weddings and other directory website, you need to understand your wedding budget and what do you really want.
 Can we get useful information or wedding guide, tips from Easy Weddings?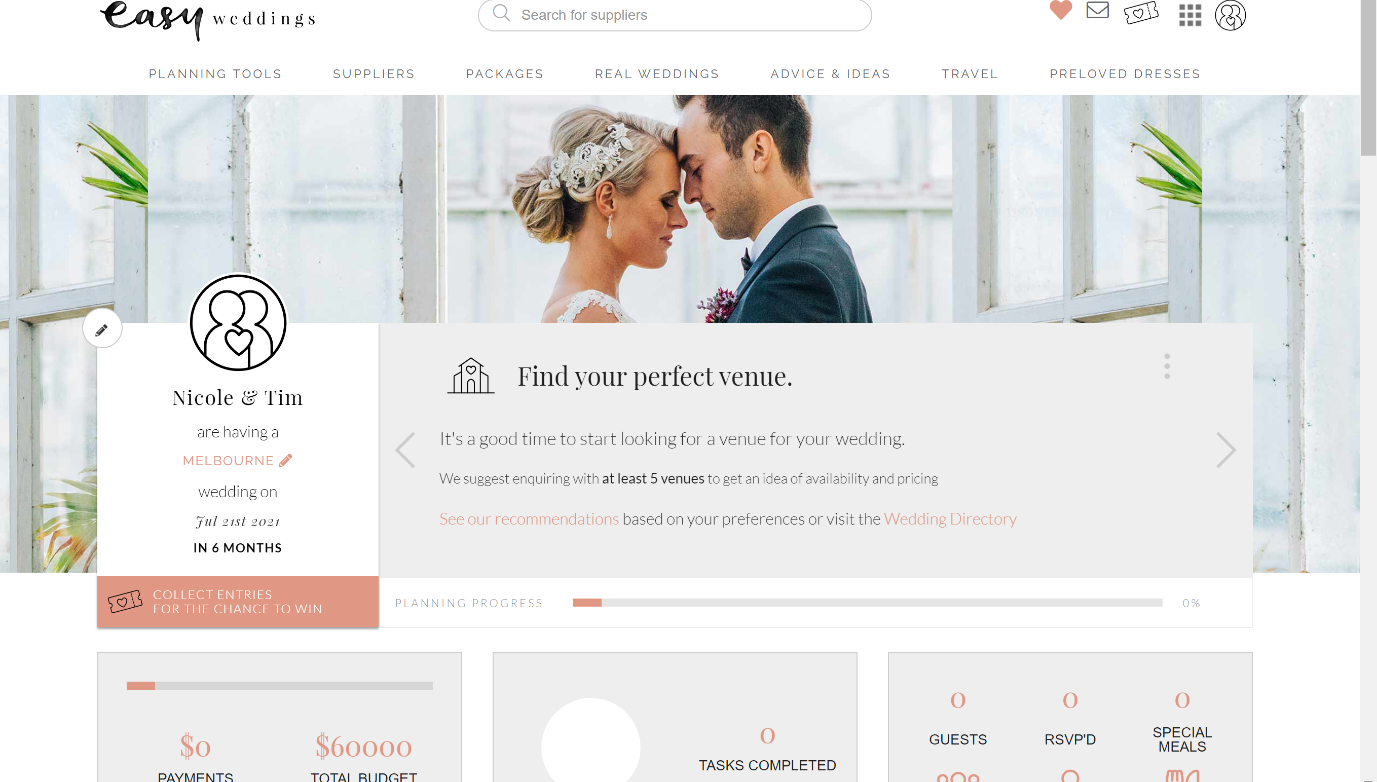 Easy wedding home page currently has 7 part.
   – Planning tool
   – Suppliers
   – Package
   – Real wedding
   – Advice and ideas
   – Travel
   – Preloved dresses.
Because the length of this article, I only focus on Planning tool, suppliers, real weddings, advices and ideas. For the travel and preloved dresses, you can find better website to solve your questions, for instance, Still White website to find more second dresses.
What is Easy Weddings planning tool?
Easy Wedding developed quite smart program. If you are newly engaged couple and have no clue where to start. You can set up a budget, to do lists and guests list on Easy Weddings dashboard.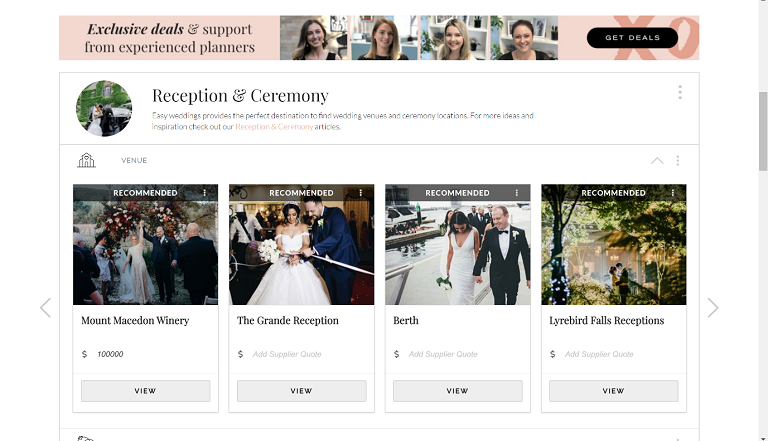 Furthermore, you can select the wedding suppliers on Easy Weddings recommend lists. However, if you're favourite wedding suppliers our of the Easy Weddings' advertises, you can't add it on the plan tool. While, the first line of recommend wedding vendors are advertisers which spend more advertise cost on Easy Weddings, that mean it would not perfectly for you.
For instance, if you are looking for candid wedding photographer, you can't get from Easy Weddings planning tool immediately. In additional, the planning tool lack the filter, so you would take more time to find the wedding vendor to fit your wedding style.
If you have clear insight of your wedding theme and style, Easy Weddings is not for you. However, if you are looking for one stop solution or last minute wedding, Easy Wedding would be a great tool.
Easy Weddings suppliers
You can find lots of local wedding suppliers on Easy Weddings website. However, like I discussed in the last section, you can only get wedding vendors which Easy Wedding are advertising.
I have to say Easy Wedding suppliers lists are not objective and the credit of the suppliers are without inspection by market and customers.
What does mean?
If the wedding business owner pay for Easy Wedding for listing, they can promote their business tomorrow.
On contrast, Google is far much better tool than Easy Weddings. Any new business has to take 6- 12 months to appear on the Google first page and it needs a more significant endeavour.
Reviews on Easy Weddings and Easy Weddings' Google review
Review on Easy Weddings, it is another weakness of Easy Weddings. Because the business owners can register an account easily on Easy Weddings, they can create 10 fake reviews in one hour. If you want to verify the credit of a wedding vendor, Facebook would be a considered as a better platform.
To give my reader a responsible answer, I have big hesitation about reviews on Easy Weddings, how much realness we can trust the reviews on Easy Weddings? That lead us to select an honest, reliable and professional wedding vendor, or not.
Therefore, I inspect the Easy Weddings reviews itself and see what other people say about Easy Weddings. If Easy Weddings as a directory and platform is trustworthy, then it is more likely that bride and groom can find more truly reviews on Easy Weddings.
Easy weddings' review on Google
Easy weddings has 147 reviews and 4.7 stars on Google. Most of negative Google reviews on Easy Weddings from wedding suppliers (advertisers, business owner). Most negative reviews from wedding suppliers are pointed out that the advertiser can block negative reviews on business profile page.
But as the bottom line, Easy weddings reply most of negative reviews and delivered an attitude of attempting to solve the conflicts.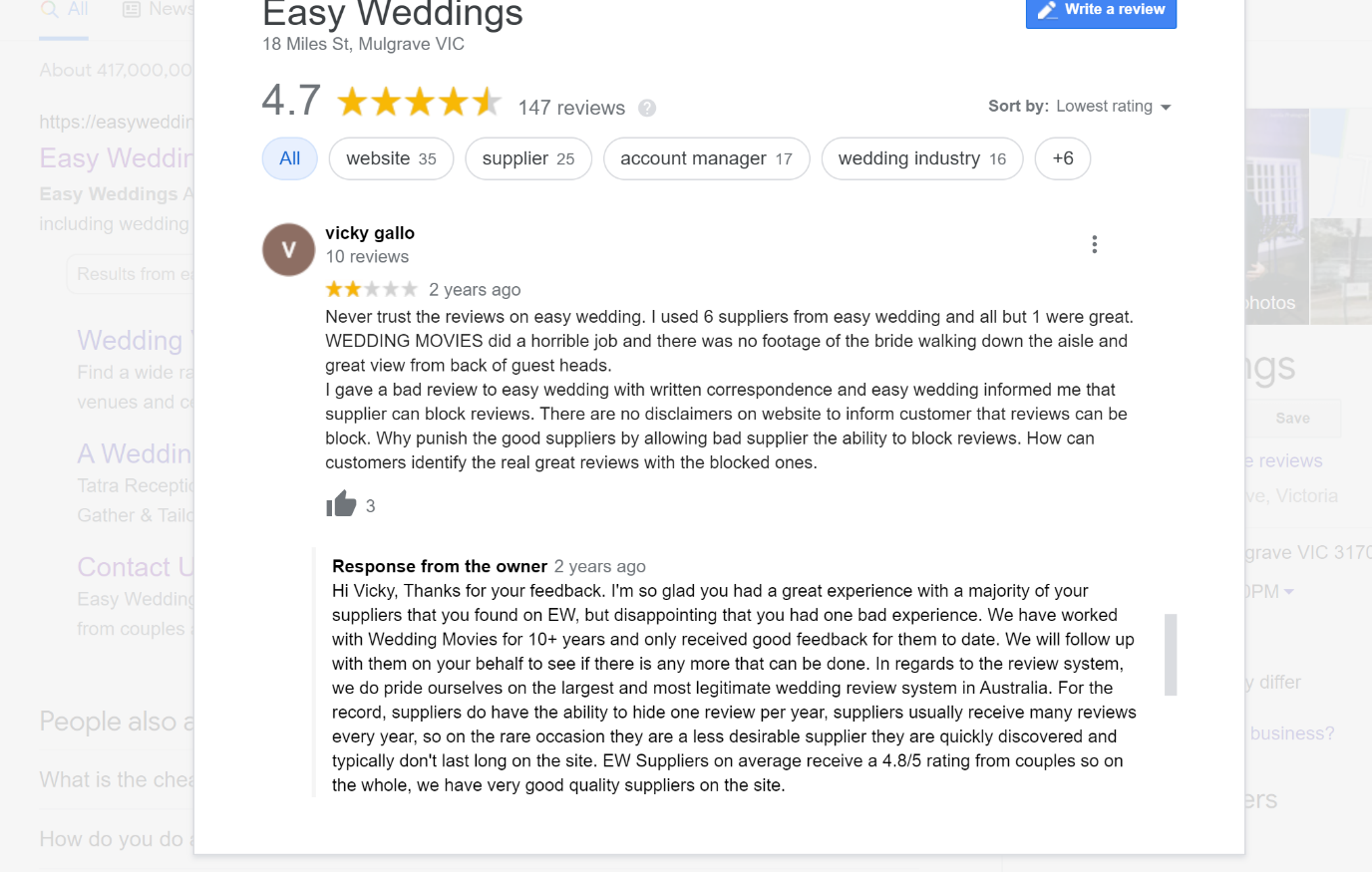 Easy weddings' reviews on Trustpilot
Easy weddings got 3.4 stars on Trustpilot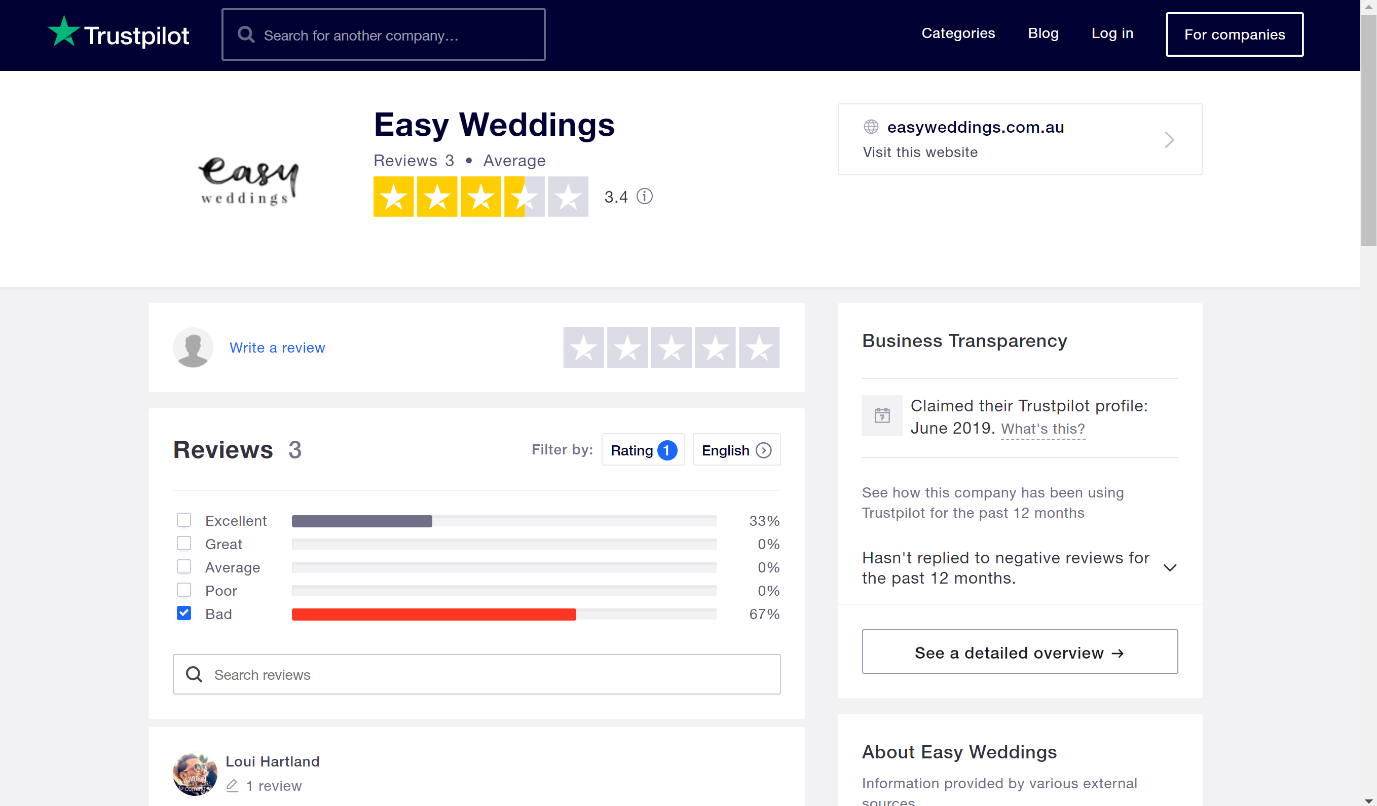 Easy weddings' reviews on Facebook
Unfortunately, I can't find Easy weddings' review on Facebook
How can we verify the reviews?
First of all, we can see how many reviews on one wedding suppliers. If the business owner only got 1 or 2 reviews on Easy Weddings, our judge can be biased by reading limited reviews and results. David Hume, the British empiricism have proven mentioned the similar standpoint in his work- An Enquiry concerning human understand.
We shall not just read 5 stars reviews on one wedding supplier, but also inspect the negative reviews. Sometimes, its competitor would deliberately leave a bad review on the wedding suppliers. We can verify whether it is fake or real negative reviews, because the fake bad is only stuffed the negative words without any logic.
However, if you can find there are more than 3 bad reviews and all say one problem, it is likely there is problem or issue existing within the business.
How can we verify the reviews on Easy wedding is real orfake?
Specifically, for new business owner on Easy Weddings. A simple way to check the review's realness: if the reviews on Easy Wedding is significantly surpass than on Google and Facebook, it is more likely that the reviews on Easy Wedding is not real.
Google and Facebook are still the prior places to leave reviews for wedding suppliers from bride and groom. Therefore, we can estimate that the number of reviews on same wedding suppliers on Google and Facebook shall be more than on Easy Weddings, or at least remain the similar amount on Google and Easy weddings.
Even worse, if you find out the wedding business owner intentionally hide their reviews from Google and Facebook, but show lots of reviews on Easy Weddings. You shall avoid this wedding supplier with second thoughts.
Easy wedding Real Weddings
Compare to Easy Weddings' suppliers, this section is more objective. Simply because Suppliers' listing fee is a major income of Easy Weddings (advertise). And Real weddings do not stand for Easy Weddings' major income source.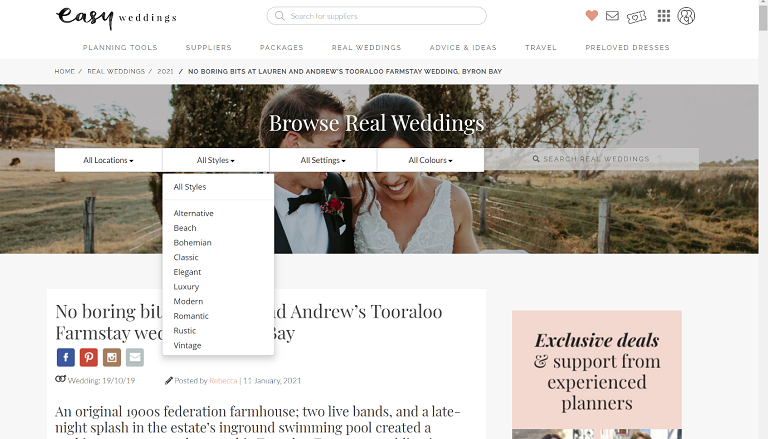 As the above image, you can search the inspiration wedding by location, styles, setting and colour. The quick search bar can assist you to find your wedding theme in visual way effectively.
On the article of Easy Wedding, they also highlight the wedding suppliers, for instance wedding photographer, videographer, celebrant, florist and etc.
However, if the wedding supplier is not paying the advertisement on Easy Weddings, they won't tag their name on the real weddings article. In the part, some real wedding articles are more authentic on Hello May and Bridal magazines.
Easy Weddings advice and ideas
If you are plan your wedding at the very beginning stage, Easy Weddings' advices and ideas are not bad options for you. They almost cover all the wedding details, insight, guide, and tips.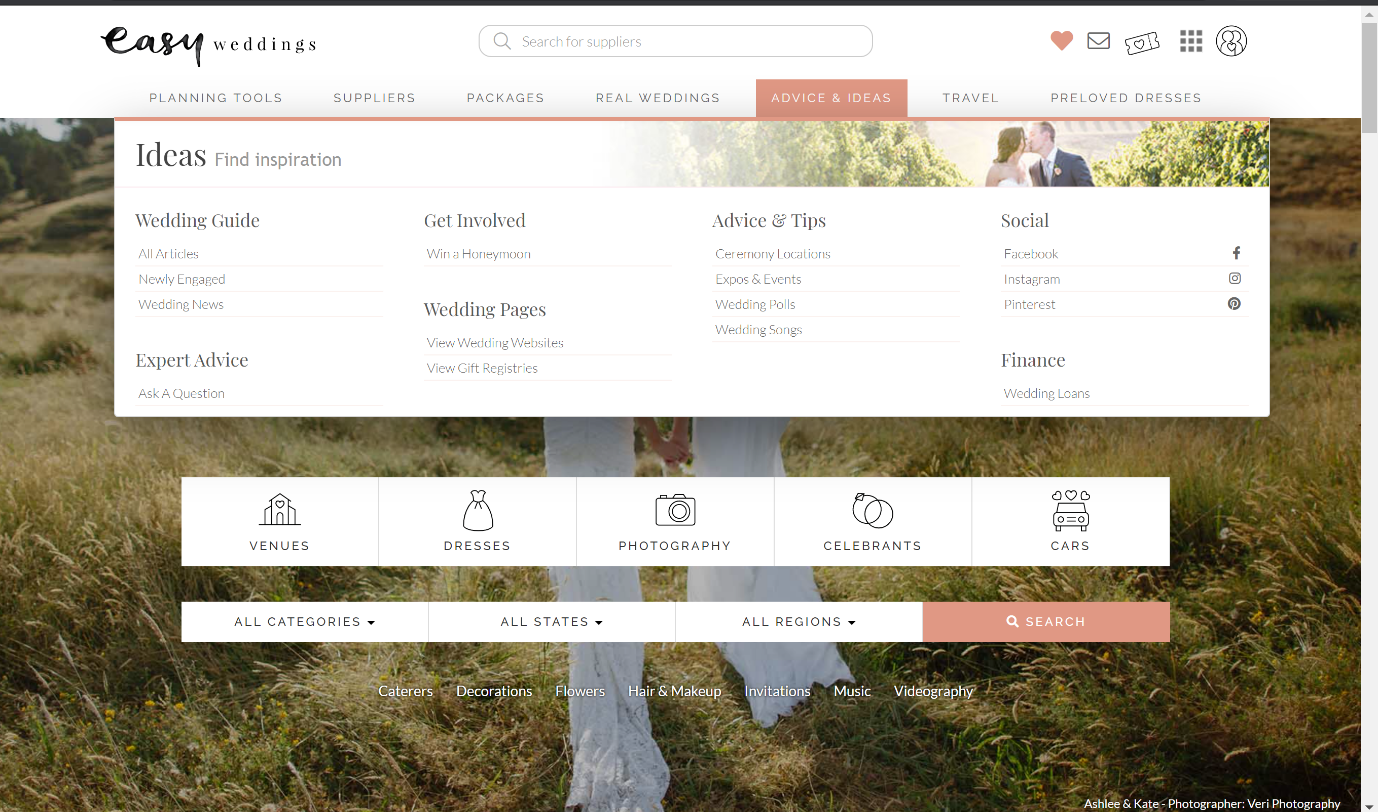 However, Easy Weddings provide you with more generic suggestions, information and knowledge. Because their content creators, copywriter are not expert in the wedding field some of their content creators are from outsourced agency or freelance copywriters.
If you want to read more professional tips in wedding field, you shall read from people's wedding blog who is actually working in wedding industry.
In the other way, if you want to search some certain topic, for instance wedding ceremony location, you shall find the answer by Google searches, Google is the  best search engine and always try to give the best answer to figure out your questions and puzzle. Sometime, Easy Weddings' article can be selected by Google.
Can we save money by using Easy Weddings?
I would say Yes and No. Because at least you can get more sense of your wedding budget. Easy Wedding planning tool  can assist you to manage your wedding cost in a big picture.
The downside of Easy Weddings: unlike Groupon, it can't give you discount from the wedding vendors even it is listed on the website. 
You can find some wedding package promotion, special deal from Google or Instagram, Facebook sponsored quite often. But it is hard to get promotional deals on Easy Weddings.
Can we save time by using Easy Weddings?
The answer is Yes if you are not a high demand bride and want to find a solution in one stop. You might get all your wedding suppliers in 2-3 hours.
However, if you are planning your dream wedding day from high school and want to setup your own style of wedding such as rustic, adventure, elopement wedding, I would suggest you finding your suppliers from Google and social media.
Likewise, you might find more than 100 wedding suppliers on one Easy Weddings' category , it can make you feel overwhelming and endless option can be seem no options.
On contrast, Google only give you top 10 best result on the search bar. I have to say I am a die hard Google fan.
If you are rational and wise bride, Google is the first and best option, perhaps Easy Wedding is second one in wedding directory website.