Revealing The Best Wedding Photo Locations In Melbourne
| Tips From A Wedding Photographer For Melbourne Brides-To-Be|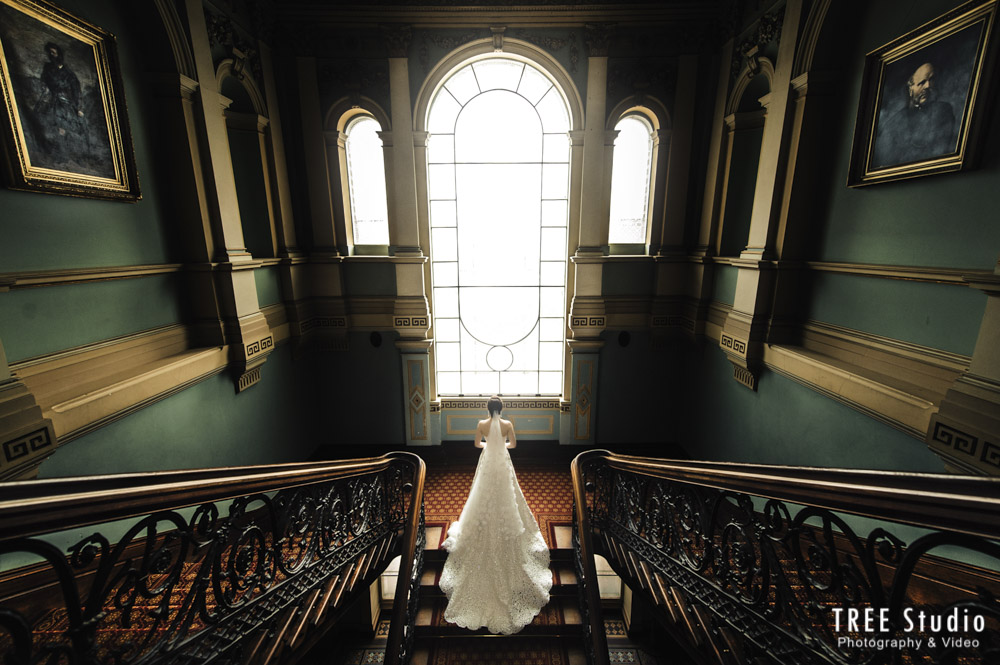 One of the most asked questions, when we are dealing with our clients, is "what's the best location to get wedding photos in Melbourne?"
This is a sort of depends-on-you question. Melbourne is the city known for its greens, the historical buildings from the Victorian Era, the stunning coastal line and the cultural diversity.
So the great thing with getting wedding location photos around Melbourne is you have various options to choose from.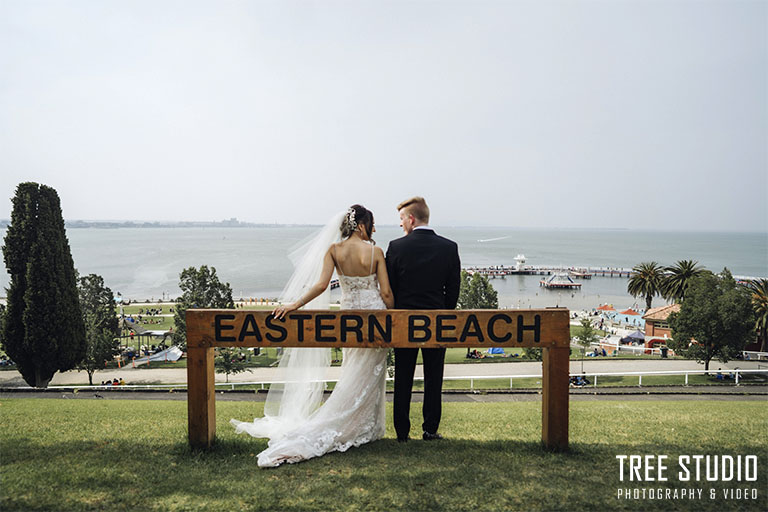 Who am I to make this list? Well, I'm a wedding photographer who works almost exclusively in Melbourne and its surrounding suburbs. I am usually a part of the wedding day from the start to finish, capturing the wedding photos for bride and groom preparation, wedding ceremony, location portrait and wedding reception. Frankly, I believe I am in the best position to make this list of the most beautiful wedding photo locations in Melbourne.
Now, let's get to the point. The best wedding photo locations in Melbourne, in a wedding photographer's point of view. Below is a podcast recorded by Tree Studio's wedding photographer Mark talking about the wedding photo locations in Melbourne. Have a listen and grab an idea to get started.
A Wedding Podcast for Wedding Photo Locations In Melbourne
 20 Best Wedding Photography Locations in Melbourne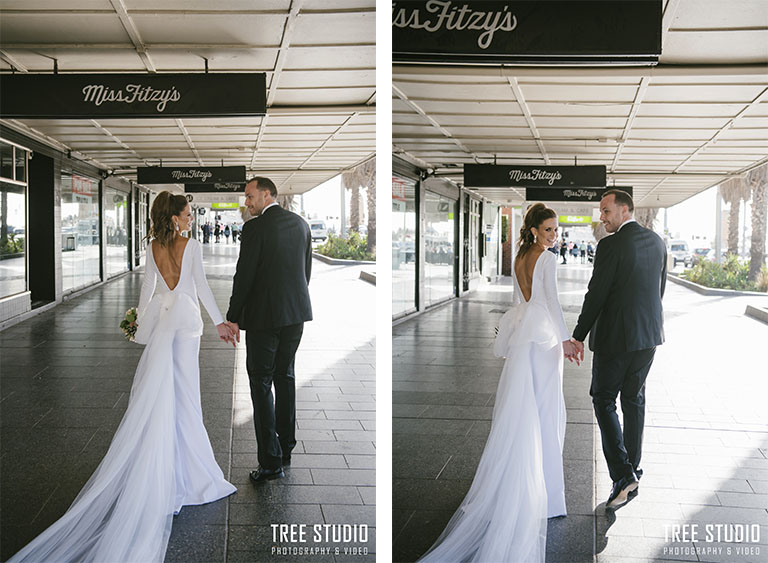 ---
Historical Architectures
Parliament House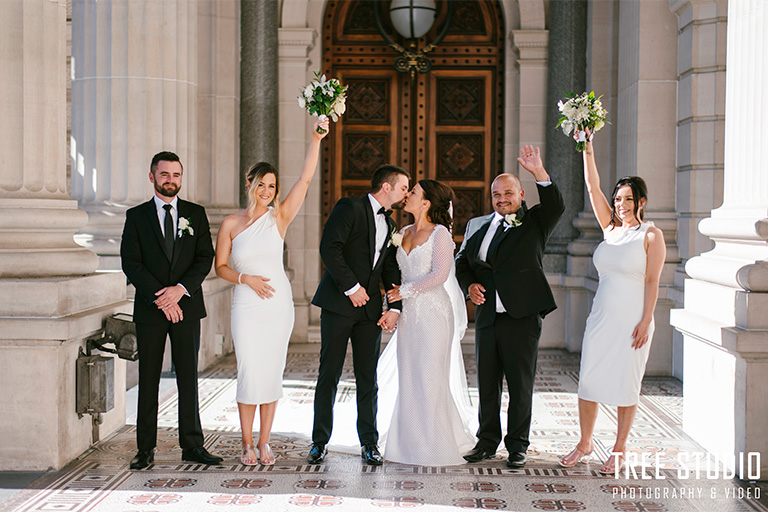 Set on Spring Street, East Melbourne. Parliament House is one of the most popular and iconic wedding photo locations in Melbourne. Constructed from 1855, Parliament House is the place to offer a grand, classic and historic backdrop for your wedding photos. It can perfectly match your lavish and elegant wedding theme. From my experience, this is the go-to photo location when you have a large bridal party come together with you. The covered behind-pillar space could allow you to still have some fantastic photos when the wet weather comes.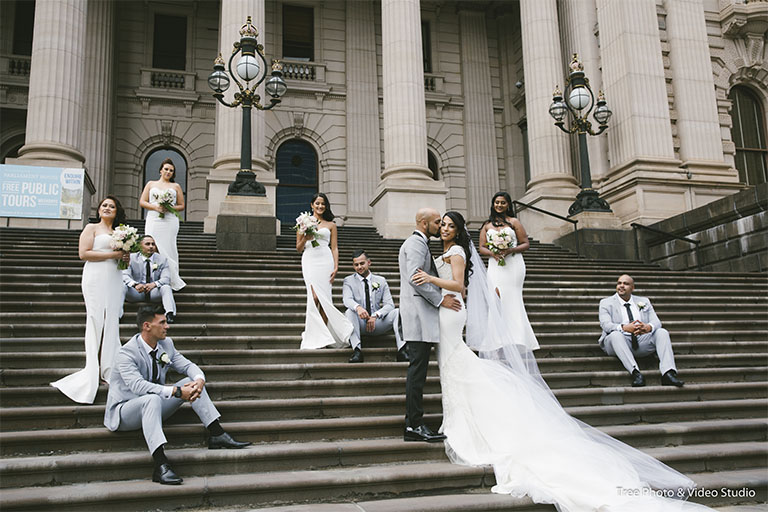 As a popular and open to the public place, Parliament House has some drawbacks for taking wedding photography here. No matter on weekdays or weekends, It normally has quite a few people here and delivers a hustle and bustle kind of feelings. During the busy season, you may have to wait for other couples who arrive earlier and your photographer persuading the tourist to walk away from their camera.
360 VIRTUE RRR
Parliament House 360 VIRTUAL TOUR
Contact info of the Parliament House 
Address: Spring Street, East Melbourne
See real weddings we've shot at the Parliament House
Parliament House on Google Maps
---
South Melbourne Town Hall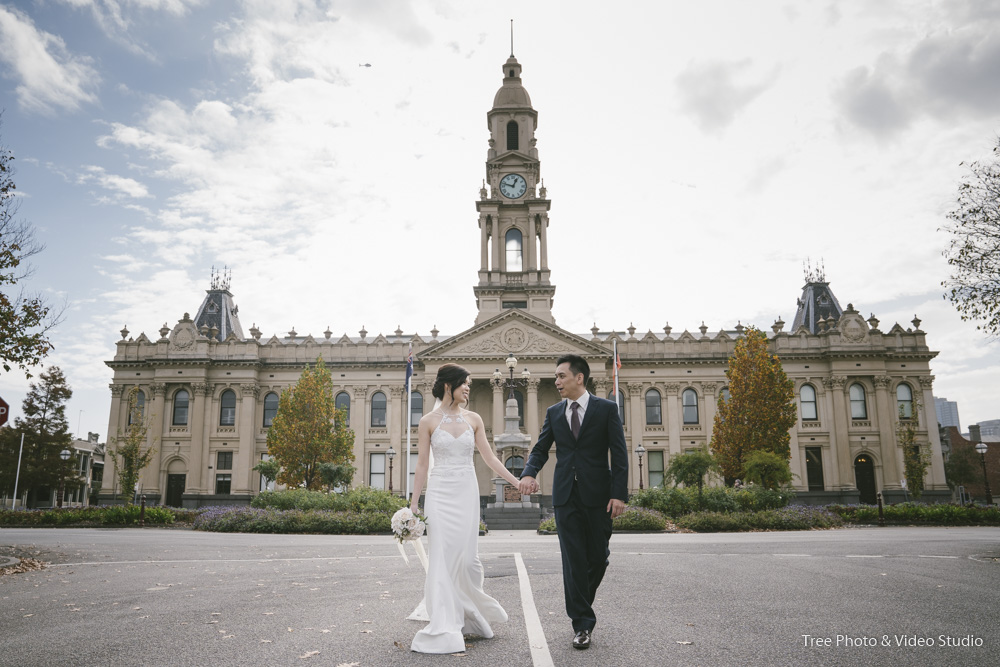 South Melbourne Town Hall is a historic civic building on Bank Street, South Melbourne. Lots of master Melbourne wedding photographers love here as it has a quiet and relaxing atmosphere to do wedding photography. You could also organize the wedding day cars parking in front of the buildings. Now your photographer could capture you, the cars and the backdrop historical building in one image. Plus, there are some iconic Melbourne wedding receptions set nearby – Crown, Luminare, The Park, Carousel, Show Time Event Center, Cargo Hall and Aerial. You normally won't need more than 10 mins to drive there.
Although South Melbourne Town Hall normally doesn't have heaps tourists, it is a place incredibly favoured by Melbourne wedding photographers. I have seen 4 couples in front of the Town Hall and have their own wedding photographer capturing them.
Contact info of the South Melbourne Town Hall 
Address:  Fishley St, South Melbourne VIC 3205
See real weddings we've shot at the South Melbourne Town Hall
South Melbourne Town Hall 360 VIRTUAL TOUR
South Melbourne Town Hall on Google Maps
---
 

RMIT University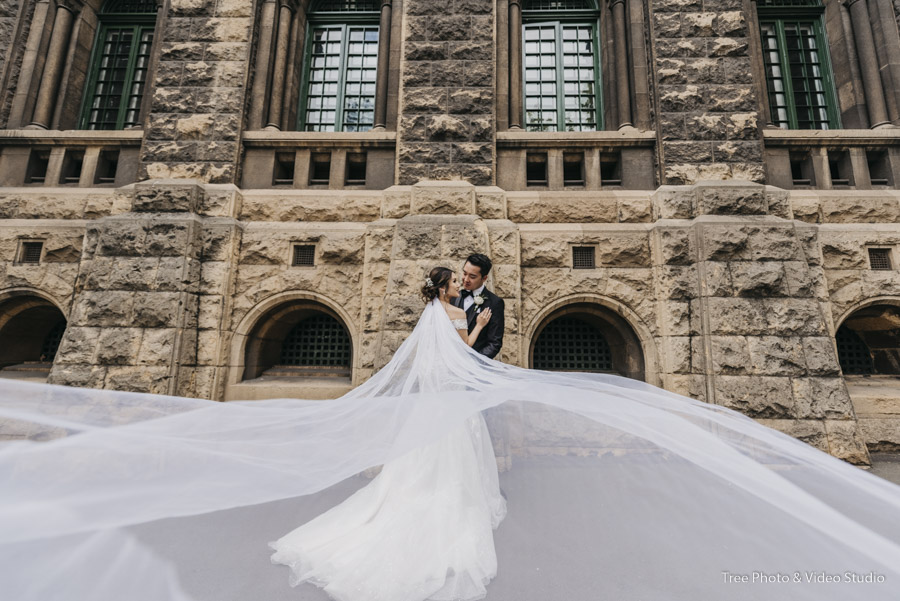 Scattered in the Melbourne CBD, RMIT University has a few heritage-listed buildings and contemporary architectures where could be your perfect wedding photo locations. One of the most iconic locations is the Building 20 at the corner of Russell St and La Trobe St. Used to be the Magistrates' Court, This historic building's Romanesque style blend the ancient British feel in your wedding photos.
If you prefer a contemporary architecture as the background for your wedding photos, the Design Archives Building on Victoria Street is a superb choice. The round mirror rendered wall and the pathway with full height glass on sides will bring the modern and artistic feeling to the wedding photography.
As a public university, RMIT is normally busy during the weekdays. So heading there for a weekend wedding is more feasible than weekdays. If you plan to have a weekday wedding, it is probably not the right place to shoot wedding photos.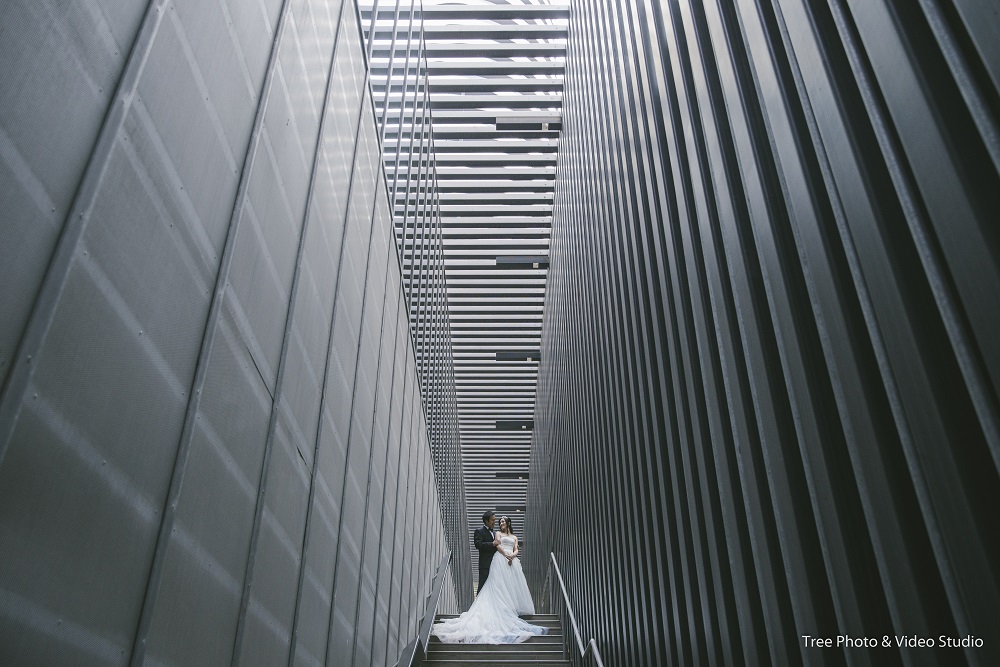 Contact info of the RMIT University
Building 20, RMIT  
Address: 325-343 Russell St, Melbourne VIC 3000
Building 20, RMIT on Google Maps
RMIT design hub address
Address: Building 100, Victoria St, Carlton VIC 3000
RMIT design HUB Virtual Tour
See real weddings we've shot at the RMIT University
RMIT design hub on Google Maps
---
Melbourne University
Found in 1853, Melbourne University is the oldest university in Victoria and a Melbourne culture icon. Hundreds of the newlyweds come to here to take wedding photos. Some of them may graduate from here and their love probably starts a lunch break on South Lawn. The period architecture is the perfect backdrop. You could also organize your wedding car shot at the architectural featured underground car park in Melbourne University. To ensure your wedding day running smoothly, having a wedding ceremony at Chapel of Holy Spirit in Norman College, One of the residential College close to Melbourne University is recommended.
The con is you have to buy a permit to take your wedding photos here. And try booking a weekend rather than weekdays as there will be too many people walk through during school days.
Contact info of the Melbourne University
Contact: 8344 4490

Old Arts: building 149

University of Melbourne, Old Arts Building, College Cres, Parkville VIC 3052
Melbourne University on Google Maps
---
Fitzroy Town Hall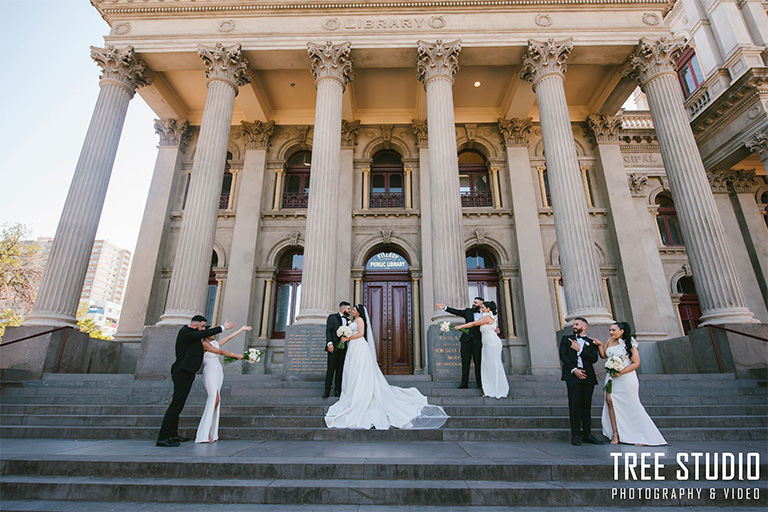 Built in the Golden Rush Era, Fitzroy Town Hall has a classic Victorian design facade as the backdrop for a wedding photo location. From my experience, on most weekends, the traffic and parking are fairly easy around Fitzroy Town Hall. You could also grab a chance to park your vintage wedding car here for the photos.
The drawback, if I have to pick one, is Fitzroy Town Hall is not a perfect place for its lighting conditions. When you choose to go there a bit earlier, like around 2 pm, the harsh lighting is very challenged for your wedding photographer. When you go there a bit late, the building itself will block the creamy glare. So this is not a place when you look for perfect sunsets photos.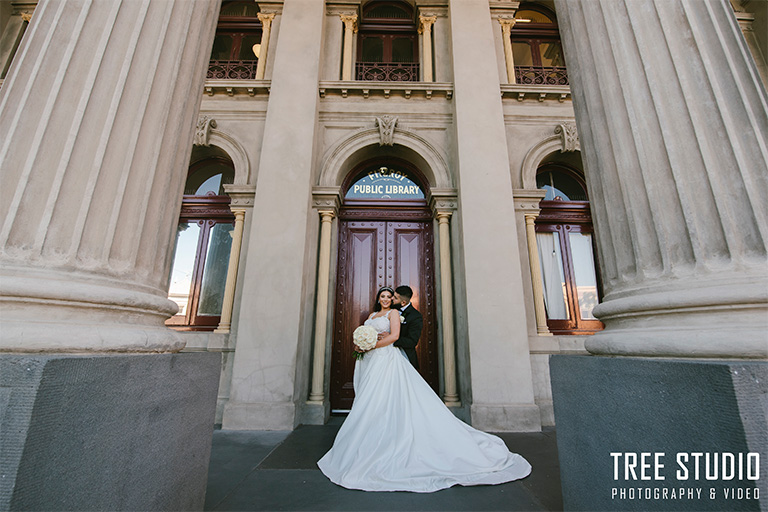 FITZROY TOWN HALL  360 VIRTUAL TOUR
Contact info of the Fitzroy Town Hall
Address:  201 Napier St, Fitzroy VIC 3065
See real weddings we've shot at the Fitzroy Town Hall
Fitzroy Town Hall on Google Maps
---
Victoria Barracks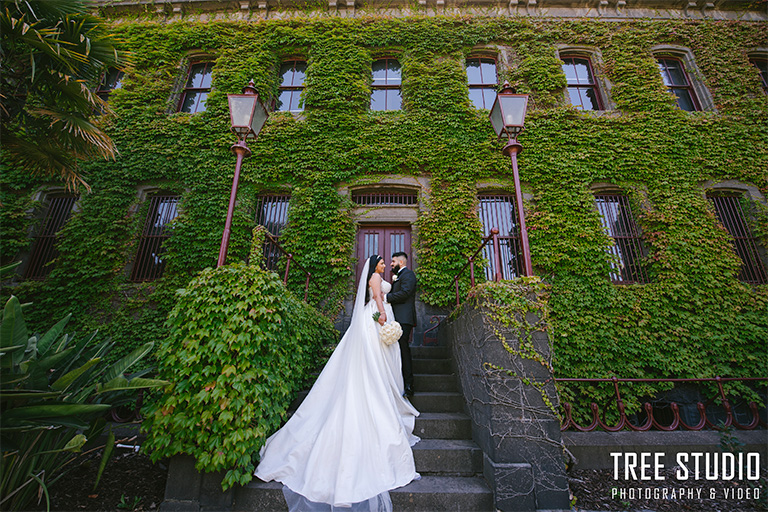 Located on St Kilda Road in Southbank, Victoria Barracks is one of the most impressive 19th Century building in terms of historical and architectural meanings. Melbourne wedding photographers love to bring the couples to take photos as it can provide a green covered stone wall as the beautiful backdrop, plus the traffic here is easier than the locations inside the Melbourne CBD. It is super handy when you booked an inner southern suburb wedding venue.
The only drawback is you do need to apply for the permit to take wedding photos at Victoria Barracks via Department of Defence.
Contact info of the Victoria Barracks
Address:  256 – 310 St Kilda Road Melbourne

Contact: 1300 333 362
Victoria Barracks on Google Maps
---
Labassa Mansion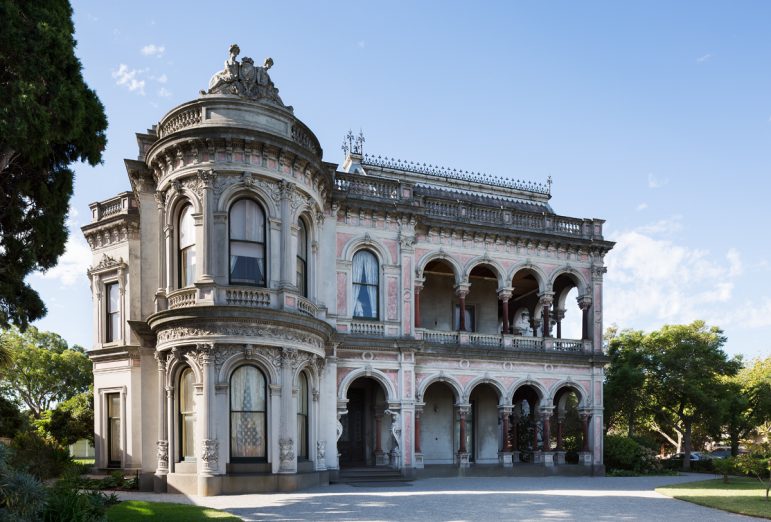 Situated in Caulfield North, Labassa is an outstanding Victorian era mansion with opulent architectural features. Listed as one of the national trusts, the Labassa is regarded as a must visit spot in Caulfield, but apart from that, it is also one of the most sought-after wedding photo locations in Melbourne.
From the embossed and gilded wallpapers to magnificent stained-glass window. The Labassa Mansion offers wedding couples with luxurious photo opportunities with its unique architectures and designs. The grand mansion also features a grand central staircase which are excellent for wedding photos. Overall, the Labassa Mansion is the perfect wedding photo location for vintage and dramatic styled wedding photos. The attention-to-detailed on the interior designs really lead to endless photo opportunities in there.
However, being a national trust with high popularity, the permit fee of the Labassa Mansion is on the expensive side. With roughly $800 for only 1-hour wedding photo session on the property, the price does scare many couples away. But on the other side, after seeing your wedding photos taken at the Labassa, you will definitely not regret the idea of doing photos there.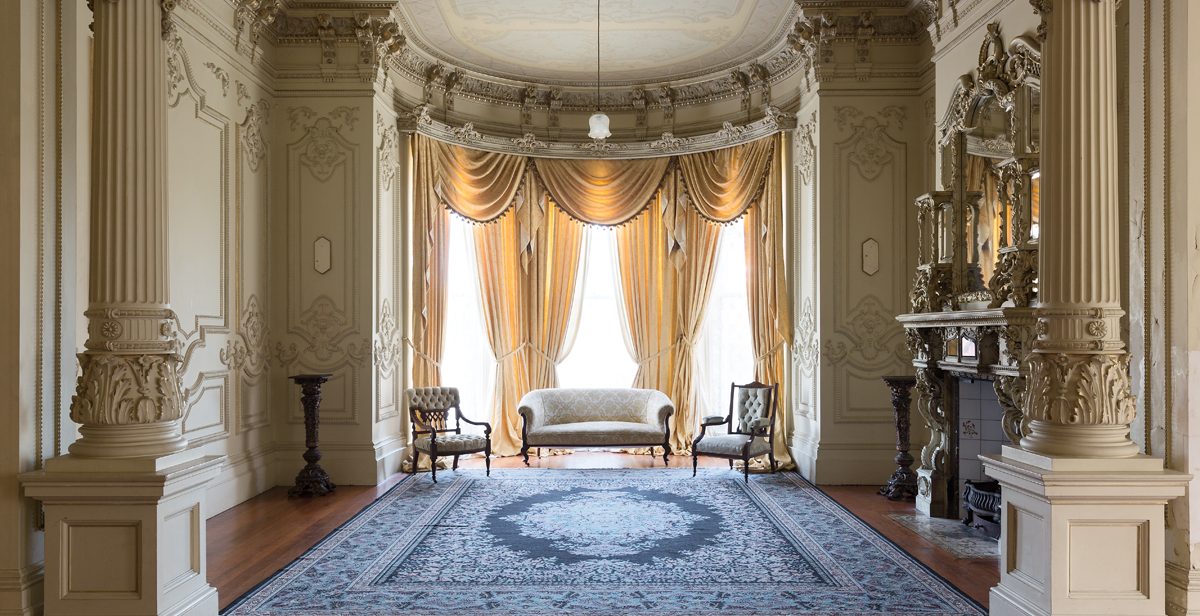 Contact info of the Labassa Mansion
Address:  2 Manor Grove, Caulfield North VIC 3161

Contact: (03) 9527 6295
Book Labassa Mansion here
Labassa Mansion on Google Maps
---
Natural Gardens
Royal Exhibition Building and Carlton Gardens
Video Tour: Carlton Gardens
Built from 1879, Royal Exhibition Building and Surrounds Carlton Gardens is a go-to wedding photo location in Melbourne. Located on the North-Eastern edge of Melbourne CBD, it is one of the iconic places display Melbourne in front of the world. The 26 hectares of manicured gardens, historical building and contemporary architecture make this place suitable for most wedding themes.
The spawning lawns, the tree-lined pathway and the charming fountain in front of the Royal Exhibition Building provide the stunning backdrop for your wedding photos. There are some well-known wedding receptions set on the inner northern suburb, such as the San Remo Ballroom and Regal Ballroom, where has an easier link to Carlton Gardens.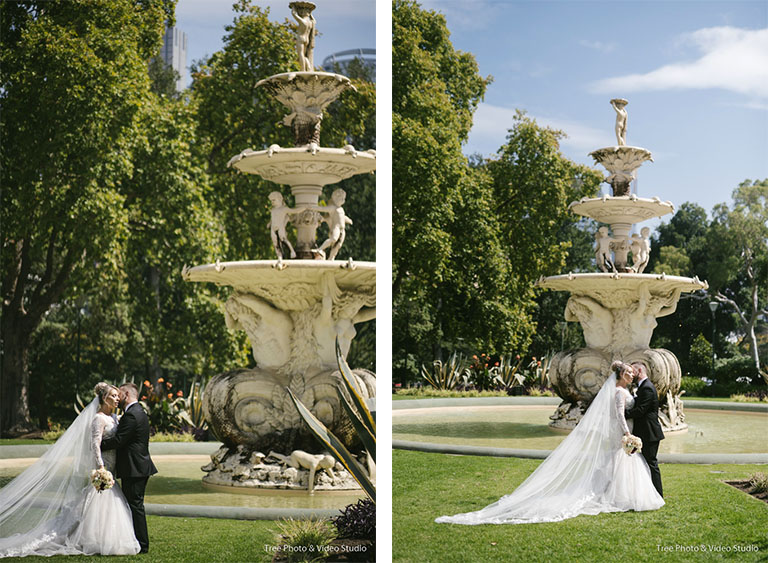 Contact info of the Royal Exhibition Building and Carlton Gardens
Address:  9 Nicholson St, Carlton VIC 3053

Contact: (03) 9270 5000
See real weddings we've shot at the Royal Exhibition Building and Carlton Gardens
Carlton garden on Google Maps
---
Royal Botanic Gardens
Video tour: Royal Botanic Gardens
The Royal Botanic Gardens represent one of the best garden styled wedding photo locations within Melbourne. Sitting on almost 50 hectares of lands, you will find lawns, forests, plants as well as ornamental lakes within. For weddings inside the Royal Botanic Gardens, couple can choose from different wedding receptions as well as ceremony location directly on site, benefited with the true convenience on their wedding day.
There are quite a few popular and famous wedding photo locations inside this Melbourne urban sanctuary, which includes the Tropical Glasshouse, the Fern Gully, the Guilfoyle's Volcano as well as the Temple of the winds. One advice for all wedding couples who are planning to do wedding location photos there is to plan out a detailed schedule on the day, as the botanic garden is certainly large, travelling between too many locations can be tiring for the bride who is on her heels.
Lastly, a wedding photography permit which costs around $200 is required in order for couple to do wedding photography inside the Royal Botanic Gardens.
Key info of the Royal Botanic Gardens
– Location: Birdwood Ave, South Yarra 3141
– Wedding photography permit price: around $200 and the application form can be found here, simply email this form to rbg@blakesfeast.com.au

See real Royal Botanic Gardens weddings
ROYAL BOTANIC GARDENS  360 VIRTUAL TOUR
ROYAL BOTANIC GARDENS ON GOOGLE MAP
---
Albert Park Lake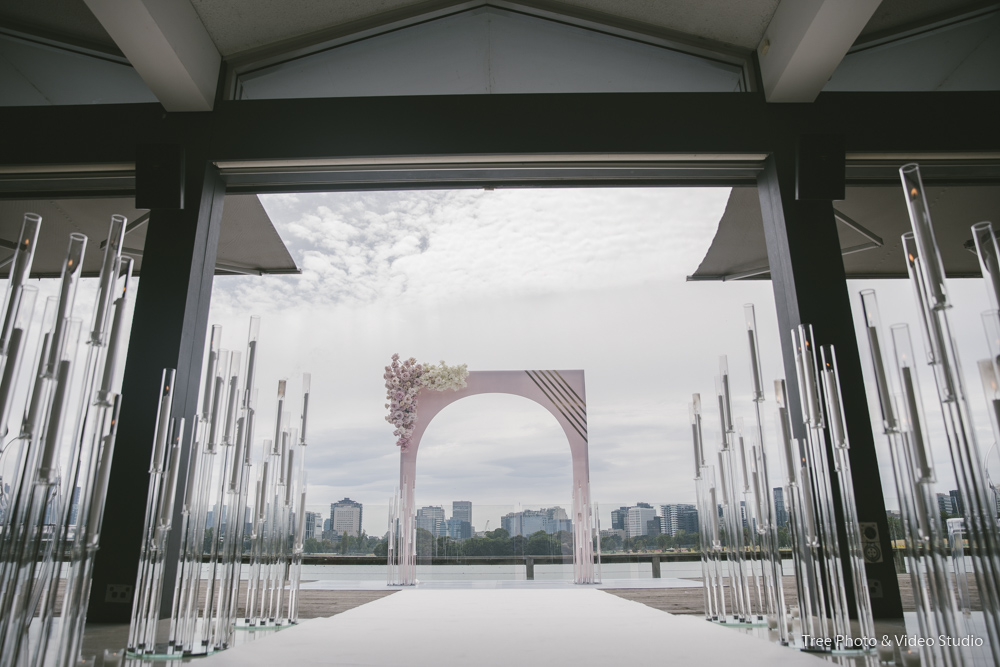 Expanding on 560 acres of Parkland, Albert Park Lake and its surrounding Gardens is simply a gorgeous place for your wedding photography. This is the place where perfectly mixed with the natural and modern feel. The swans, the tropical trees, the boat on the lake, the buildings from near to far and city skylines, these above could all be the perfect view for your 'wedding photography.
There are also some iconic waterfront wedding receptions surrounding the lake. Your wedding day can definitely run seamlessly when you choose your wedding reception and wedding portrait all here in Albert Park Lake.
See real Greenfields Alber Park weddings
Address Albert Park Lake photo and parking address : 
33 Lakeside Dr, Albert Park VIC
Albert Park Lake on Google Maps
---
Fitzroy Garden
Video Tour: Fiztory Gardens
When you are celebrating your wedding day in Melbourne CBD or nearby, and love to add some greens as the backdrop of the wedding photo, then Fitzroy Garden is one of the best wedding photo location choices. With a close distance to the receptions in Melbourne City, inner northern and eastern suburb. The iconic majestic tree-lined pathway, the Conservatory, the River God Fountain and the Wind Temple are just a few options in Fitzroy Garden.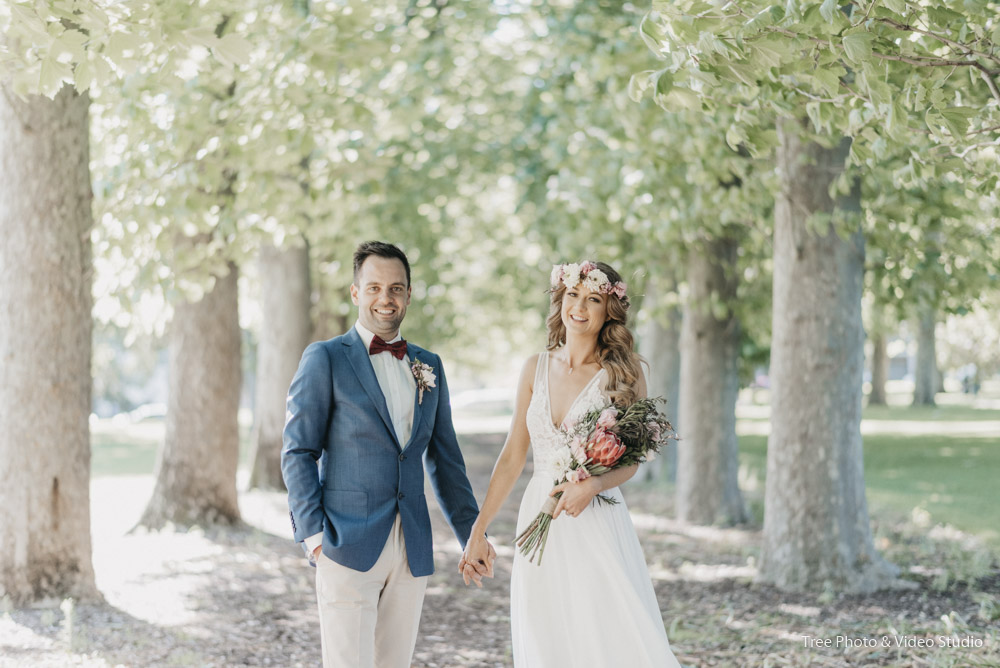 As a popular tourist visit garden, you should expect some extra time for your wedding photographer to take some photos with a clean background. Photoshop these peoples off in the post-editing will cost a significant amount of time.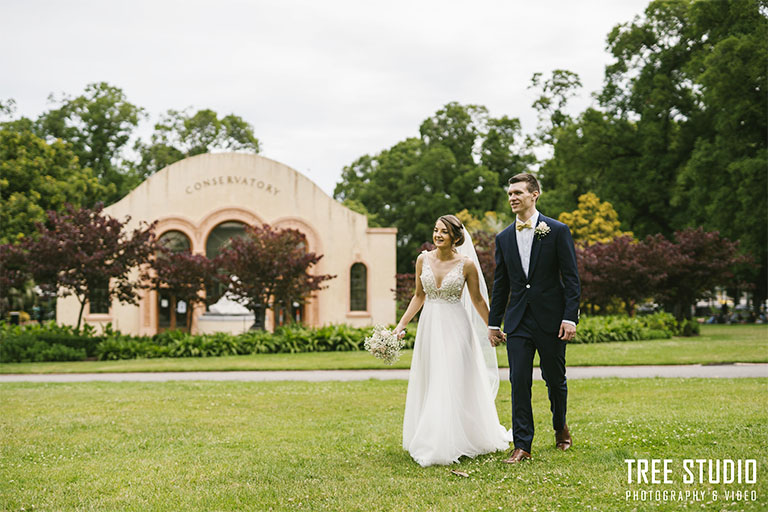 Contact info of the Fitzroy Garden
Address:  Lansdowne St, East Melbourne VIC 3002
See real weddings we've shot at the Fitzroy Garden
FITZROY GARDENS  360 VIRTUAL TOUR: BOY ON THE TURTLE
FITZROY GARDENS  360 VIRTUAL TOUR: COOK'S COTTAGE
St Kilda Botanical Gardens on Google Maps
Kamesburgh Garden on Google Maps
HOSIER LANE 360 VIRTUAL TOUR
Hosier Lane on Google Maps
Australian Center for Contemporary Art on Google Maps
Spice Market on Google Maps
National Gallery of Victoria on Google Maps
Luna Park on Google Maps
Chanel Melbourne 360 VIRTUAL TOUR
Chanel Melbourne City on Google Maps
Princes Pier on Google Maps
Gem Pier Williamstown on Google Maps