As a wedding photographer based in Melbourne, I have attended quite a lot of bridal and wedding Expos since I stepped into the wedding photography industry 8 years ago.
For Melbourne couples who are planning their weddings in 2021 or 2022, there are definitely some major wedding expos you don't want to miss.
It is a hard job to find the right wedding expos as they all have similar names. Try google "Wedding Expos Melbourne", you will see what I mean.
However, you don't have to worry about it after you see this blog. Through these years journey to be part of the Melbourne wedding industry, Tree Studio is pleased to bring you a full guide for Melbourne wedding expo with where and when information.
Just in case you are running out of time to read the whole article and find out which bridal expo you need to go first. I have outlined the most recent one won't make you regret to visit. Please check the time and location information below.
---
The Next Can't-Miss Coming Wedding and Bridal Expo In Melbourne
Wedding Expos Australia
SUN 5th JULY 2020
Caulfield Racecourse
---
1. Australia Bridal Service

Australia Bridal Service is one of the largest and most successful bridal expos in Australia since 1992. It will be organised in January and August in Melbourne. They are also known as the Ultimate Bridal Event for the past 30 years and Bridal Festival for Recent . Australia Bridal Service is their fresh new brand to walk together with you to plan a wedding. There are more than displays from the wedding industry-leading retailers, which include the giants like Vera Wang, Crown and Calvin Klein.
August 2020
(Exact TBC shortly)
Royal Exhibition Building
---
2. Melbourne Wedding & Bride Expo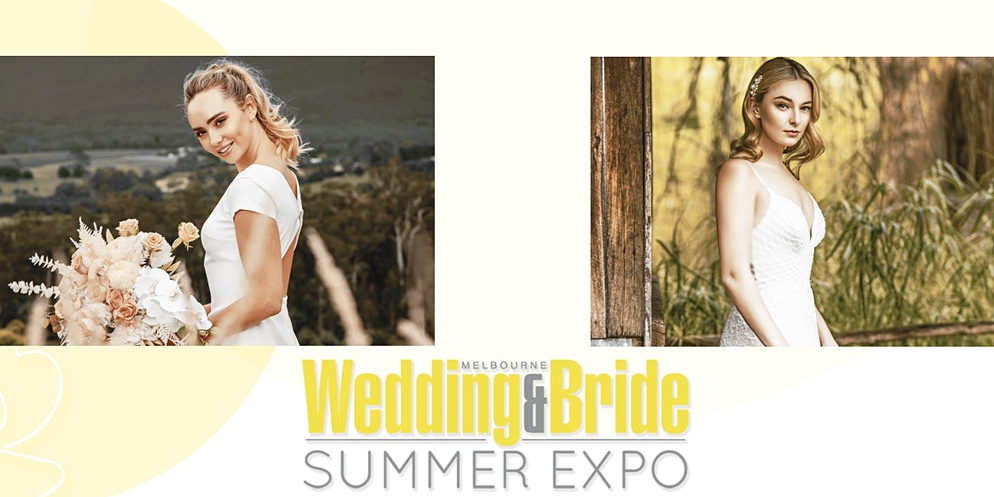 Melbourne Wedding & Bride Expo, holding in Spring and Summer separately, is an exclusive and premium wedding expo organised by the wedding industry veteran – United Media Group. There are more than 200 hand-picked creative wedding experts will show their amazing features. From my Wedding Photography professional's perspective, this is a one-day trip you never want to miss when you planning a wedding.
16 Jan 2022, 9:00 am – 4:00 pm
Melbourne Showgrounds ( Epsom Rd, Ascot Vale VIC 3032)
Below is a podcast with the organizer of Melbourne wedding and bridal Expo talking about the shows and tips for brides to attend the expo.
---
3. Wedding Expos Australia

Wedding Expo Australia is one of the favorite wedding expos in Australia. They have been coordinating the bridal fairs since 2005 and organised the bridal expo in all the major cities in Australia. When it comes to Melbourne, they will organize two admission-free expos in 2021. There are more than 150 wedding vendors and professionals in each expo, you're guaranteed to find a perfect match for your perfect day.
Sun,5 Dec 2021 10:am-3:00 pm
Melbourne Showgrounds ( Epsom Rd, Ascot Vale VIC 3032)
and
SUN 11th OCT 2020
Melbourne Showgrounds
---
4. One Fine Day Wedding Fair

When talking about the stylish and creative wedding fairs, One Fine Day Wedding Fair is definitely the one on top of the list. It is a perfect platform for creative couples to plan their inspiring and unique weddings. You will definitely find the perfect vendors for a Boho, candid and natural style wedding.
SAT 30th – SUN 31st MAY 2020
Royal Exhibition Building
---
5. Bridal Expos Australia
When you live in the country and do not want to feel the weekend jam in the City, Bridal Expos Australia is definitely the one you after for wedding expos. Holding more than 10 rural area wedding expos around Melbourne every year, they are the expert to have the affordable vendors for your intimate country style wedding. The best two among these expos are Geelong Wedding Expos and Mornington Wedding Expos. I have listed the date and address details for your reference.
SUN 23rd FEB 2020
Deakin Waterfront Campus Geelong
and
SUN 15th MAR 2020
Peninsula Community Theatre Mornington 
and
SUN 18th Oct 2020
Deakin Waterfront Campus Geelong
and
SUN 30th Oct 2020
Peninsula Community Theatre Mornington 
Some Final Word
While the social media and wedding blog could help with your wedding planning, meeting a vendor in person on a well-organised wedding expo delivers more credits when you choose them. You know more about who they are, what they do, how they are organised when you talk to vendors on wedding expos.
We are a wedding photography and video studio based in South Melbourne. If you'd like to chat more about you wedding day, please contact us Directly by click HERE.
Happy Planning Your wedding!
> We Would Love To Hear From You
---