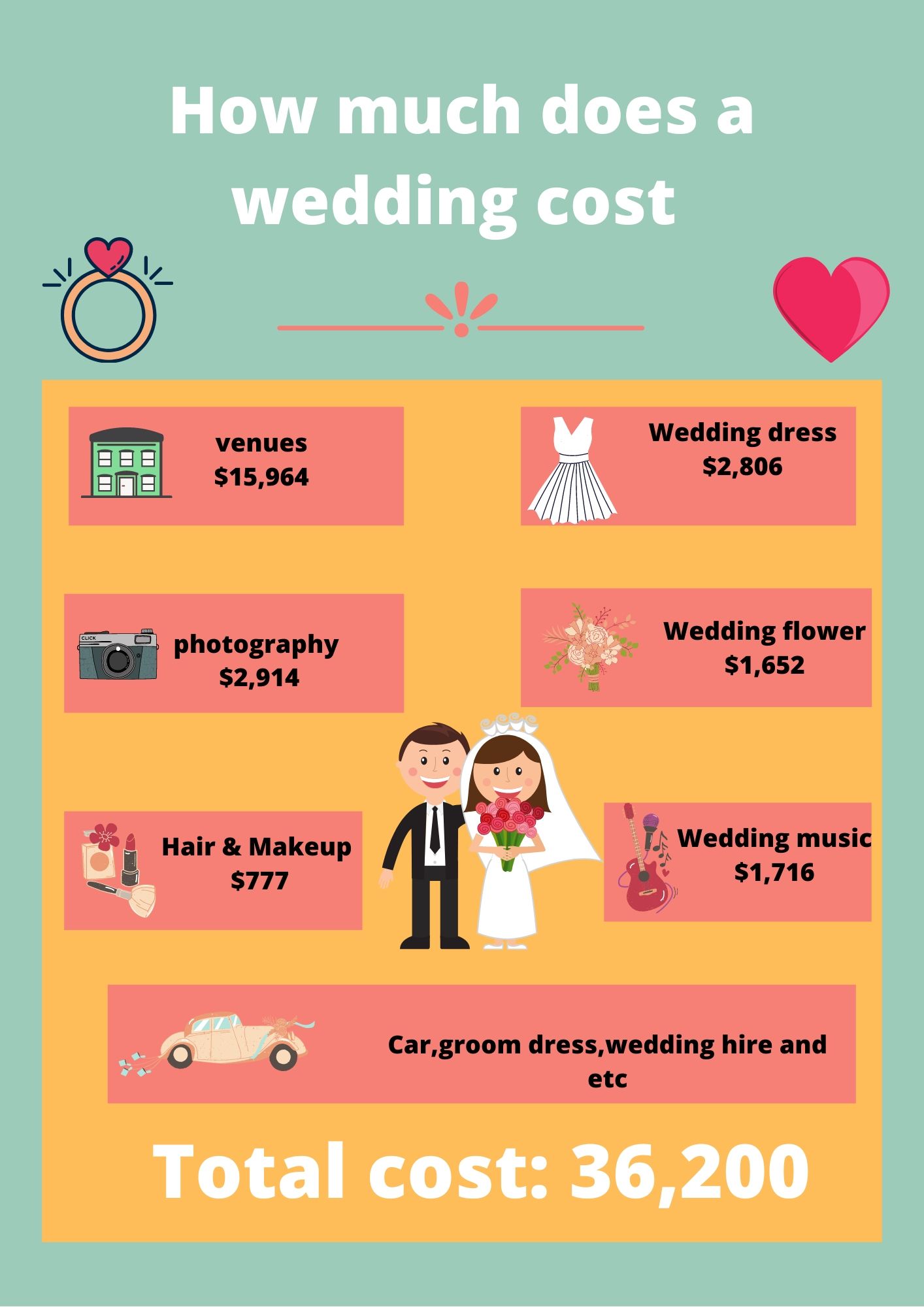 Planning a wedding is no doubt the biggest investment for an one day event in your entire life.
Brides always spend several weeks to gather all sorts of information on wedding vendors and finally make a shortlist of them.
For human nature, we are expected to get best wedding services in Melbourne without rocketing bills.
'How much does a wedding cost in Melbourne?' This question seems a bit too broad. Let go more specific.
How much does each wedding suppliers cost in Melbourne, for instance, wedding venues, photographer, bridal gown, florist, entertainment and etc.
In addition, how much does an average wedding cost in Melbourne in 2021?
When bride and groom collect adequate information, they will obtain a clearer insight on their wedding budget and invest in each part of services more wisely.
In this complete wedding budget price guide, I'll unfold the average cost on wedding industry for different wedding vendors, the price movement in the last 4 years in Melbourne. Also, I'll reveal the 5 effective tips to manage your total wedding budgets.
To ensure the figures accurate and objective, I gathered last 4 years wedding expense data from mainstream media like Hellomay, Easy wedding and government website such as Moneys smart.
Firstly, let us get started with the big picture on wedding budget.
Watch wedding cost in Australia video
The minimum cost for getting married and average wedding cost in Australia
We can start from the minimum wedding budget.
The minimum cost to get married in Australia
If you want to reserve the money to put on the house deposit and do a low-key wedding, you can consider getting married at the registry, each state has different price for register marriage.
The registry marriage is only for legal purpose, which means there will only be a small ceremony for you to sign the paper, there won't be wedding venue or food, people would usually invite their immediate family and very close friends to attend the wedding as the ceremony location is often small and intimate.
The registry marriage price guide for different state is here,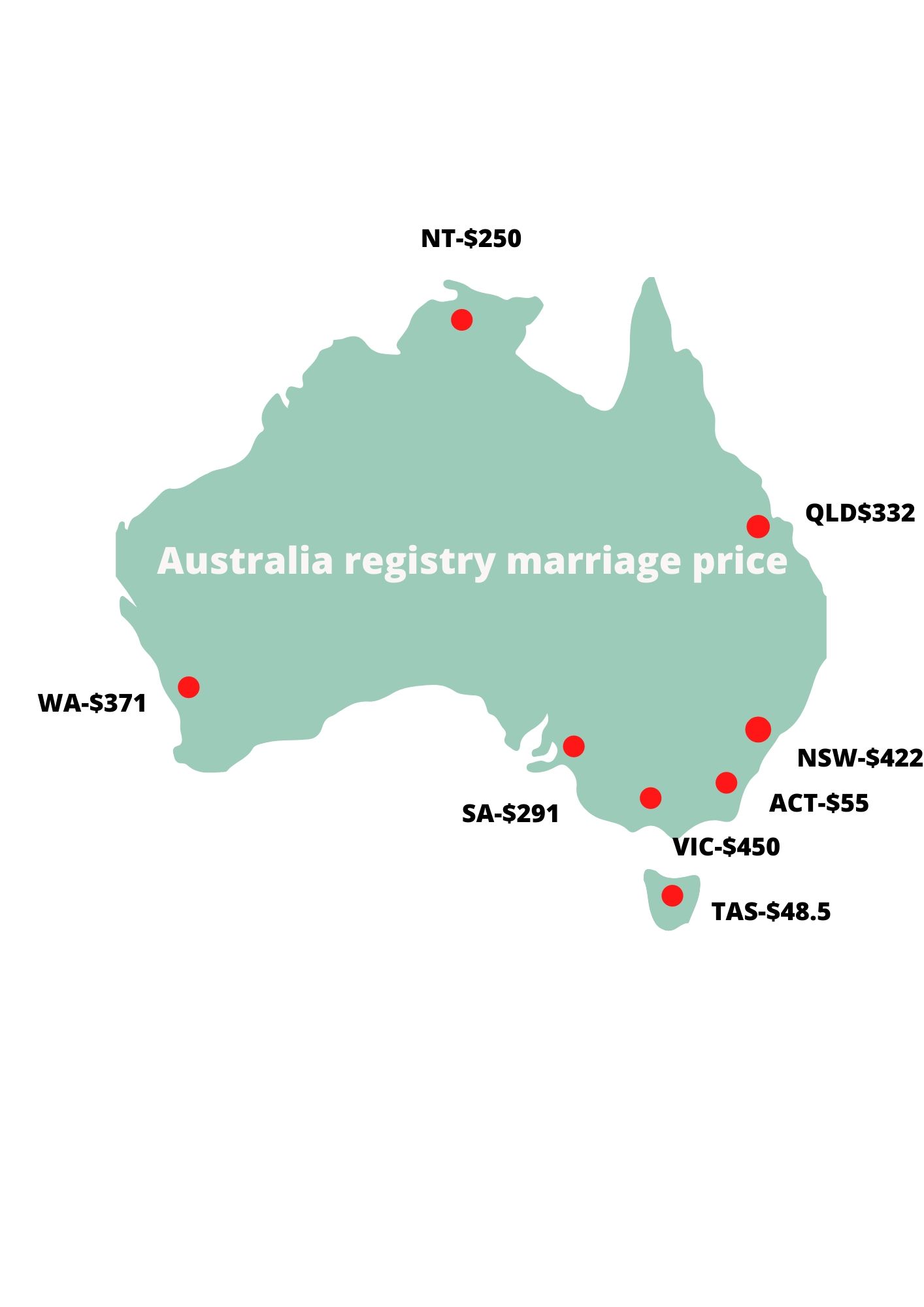 NSW-$422
VIC-$450 (weekday), $550 weekend
QLD-$332
WA-$371
SA-$291
NT-$250
ACT-$55   (no register wedding office, the fee is marriage certificate)
TAS-$48.5 (no register wedding office, the fee is marriage certificate)
The registry marriage office in Melbourne is The Old Treasury Building.
Address is 20 Spring St, East Melbourne VIC 3000
The register marriage in Melbourne price includes
– 30 minutes wedding ceremony
– Celebrant
– Two rooms to choose for ceremony (Margaret Craig room up to 55 guests, Thomas Hyde room-up to 10 guests)
– Receive Commonwealth marriage certificate on the day
– Post official marriage certificate
– Administration
Real wedding at the Old Treasury Building.
Average expense on wedding in Australia
The government's Moneysmart website gives a figure of $36,200 as of 2017 in Australia wide. According to Easy wedding reports, the average cost on wedding in Victoria is $33,891 in 2019.
Surprisingly, back to 2014, according to ABC reports, the average cost on wedding is $54,000 in Australia wide.
There is a big price difference between ABC and Easy wedding, because the price of easy wedding takes account on wedding day, ABC's average price on wedding also includes engagement ring and honeymoon.
According to Easy wedding, the wedding cost price movement from 2016 to 2019 is below,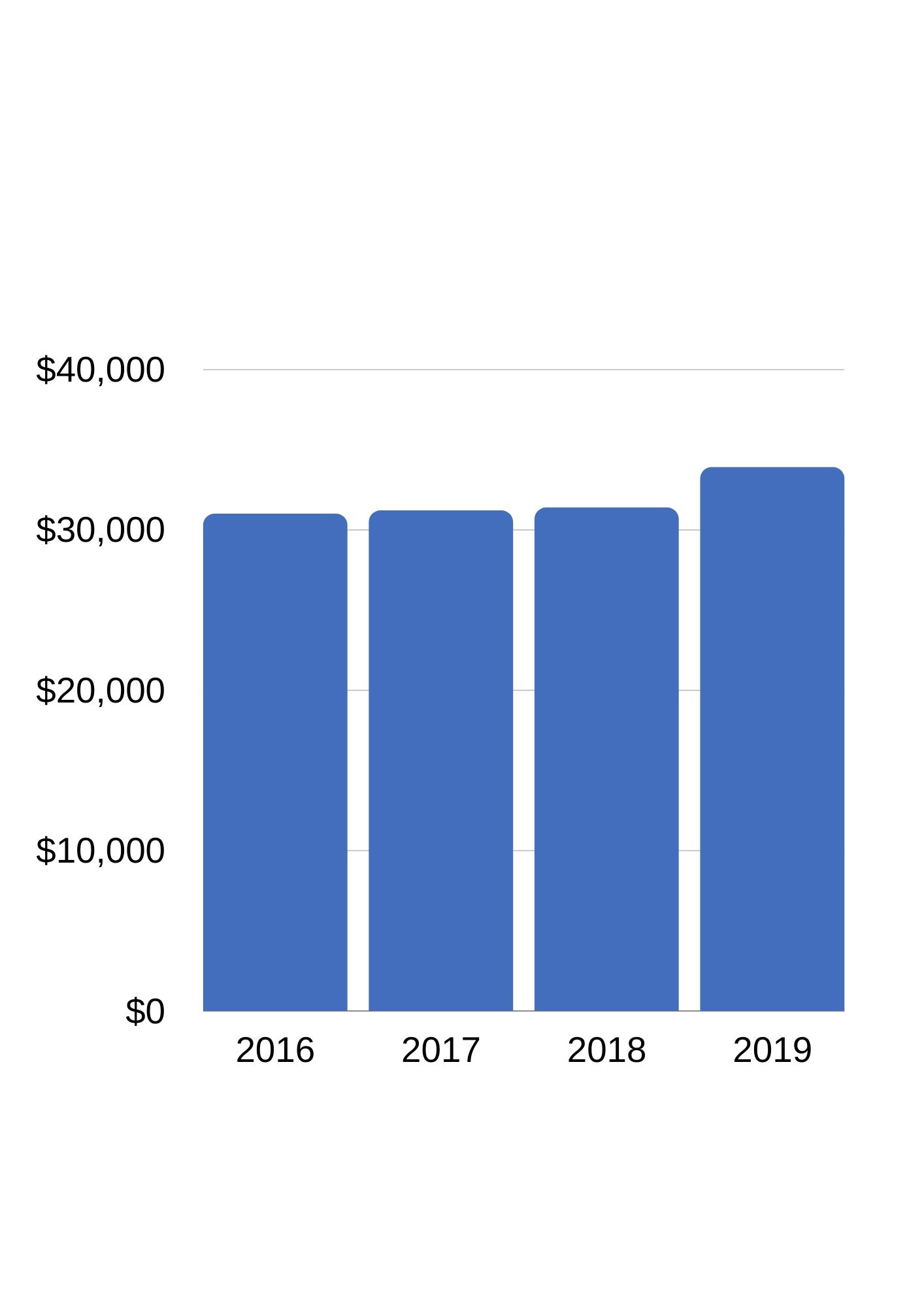 $30,985 in 2016
$31,182 in 2017
$31,368 in 2018
$33,891 in 2019
The wedding industry gradually increase in recent 4 years. The wedding budget increase 2.1% each year.
The Australian inflation rates from 2016 to 2019 are listed below,
| | | | |
| --- | --- | --- | --- |
| 2016 | 2017 | 2018 | 2019 |
| 1.28% | 1.97% | 1.93% | 1.61% |
The average wedding expense increasing (2.1%) slightly higher than the Australia inflation rate (1.697%). So, the average wedding price movement is still in a reasonable range.
However, the forecast of expense on wedding would be expected to shrink in 2020 due to the COVID-19 panademic.
Apparently, bride and groom would have less confidence on their financial which lead to less wedding expense and smaller wedding if possible.
In the long term, the wedding expense would be continually increasing because the foreseeable increasing demand on holding wedding when Australia finally overcome the COVID-19 pandemic.  
The data of minimum and average cost on wedding can give bride a briefly insight on wedding expense. Bride could save around 30k when she opt to organize a medium size of wedding.
However, the average wedding budget is too ideal to be realistic.in fact, due to a survey on 10,000 bride in 2019 found out that bride averagely spent 16.8% more than what expected on their wedding.
Because wedding expense tend to be an impulsive spending, bride might pay overprice for some segments, particular some wedding vendors (wedding dress, venue, photographer)which brides book the services during earlier wedding planning stage.
In the end, if the bride spend too much at the beginning stage of wedding planning, the bride would have to sacrifice other segments in order to keep the original wedding budget. Those segments would usually be those vendors bride book at later time, for instance, photo booth, hair & makeup and wedding videography.
Apart from working out a total wedding budget, bride has other important task to understand which segments take account of total budget. So you have clear insight and are able to scheme a Better management of wedding budget.
Now, let's us look more specific details.
Wedding budget on different segments review
We use 2019 calendar year and Victorian state as a sample because there are more data to gather from government financial reports and main stream medias, also the information reflects latest bride consumption trend.
Individual wedding vendor cost in Victoria in 2019 (order price high to low)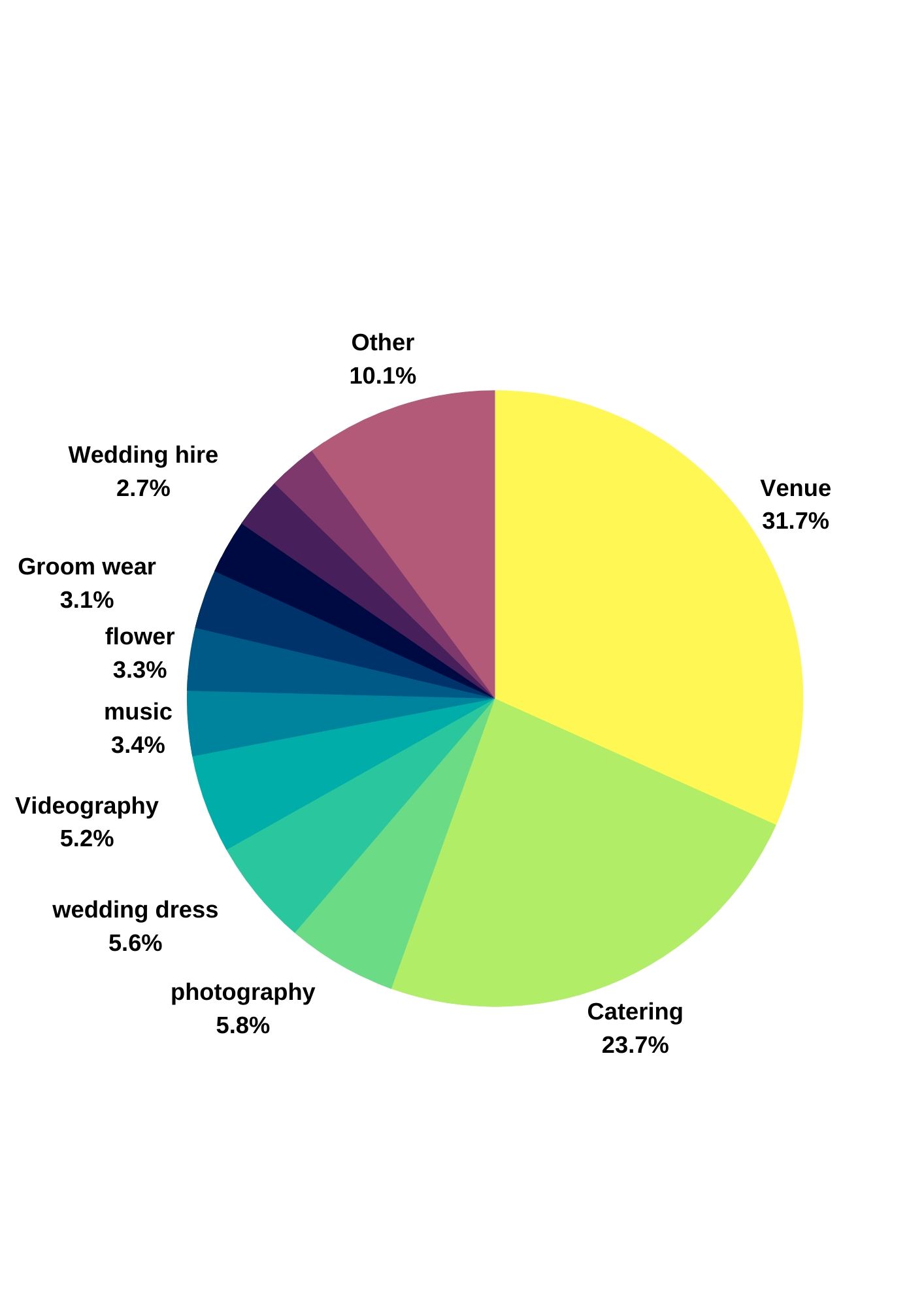 Wedding venues $15,964 (31.7%)
Catering $11,947 (23.7%)
Wedding photography $2,914 (5.8%)
Wedding dress $2,806 (5.58%)
Wedding videography $2,598 (5.16%)
Wedding music $1,716 (3.4%)
Wedding flower $1,652 (3.28%)
Groom wear $1,558        (3.1%)
Decoration $1,424        (2.83%)
Wedding hire $1,348       (2.68%)
Wedding car $1,290       (2.56%)
Photo booth $863              (1.71%)
Bridesmaid dress $833        (1.66%)
Wedding invitation $807        (1.6%)
Wedding celebrant $796          (1.58%)
Hair & Makeup $777                (1.54%)
Wedding cakes $553               (1.1%)
Bonbonniere $476                    (0.95%)
Total wedding cost $50,322  
Some brides would be curious why the sum of wedding vendor ($50,322) is so much higher than the average wedding cost ($33,891)
Because most brides won't use all wedding services and vendors, for instance, some couple don't hire photo booth or wedding venues has own kitchen and catering support. Some bride would ask friends to do her wedding flower or makeup.
We can get better insight on each segment that brides would invest in percentage. The top 3 most expensive services are wedding venues, catering and wedding photography. Those three services take account of 61.26% of total wedding cost.
The least costing three wedding expenses are hair & makeup, wedding cakes and Bonbonniere, those three services only take account of 3.59% in total.
Organizing a wedding can be overwhelming, it's almost like an endless research but in a limited time frame, bride could be benefited by spending more time researching on higher costing services, for instance, wedding venues and bridal gown in order to control budget.
Wedding suppliers price movement (2016-2019)
Wedding venues cost (31.7%)
Three is no doubt that the wedding venue would be biggest investment on most wedding. The wedding venues take account of 31.7% on total wedding cost in 2019.
The comparison of wedding expense on wedding venue in Melbourne from 2016-2019 records is here,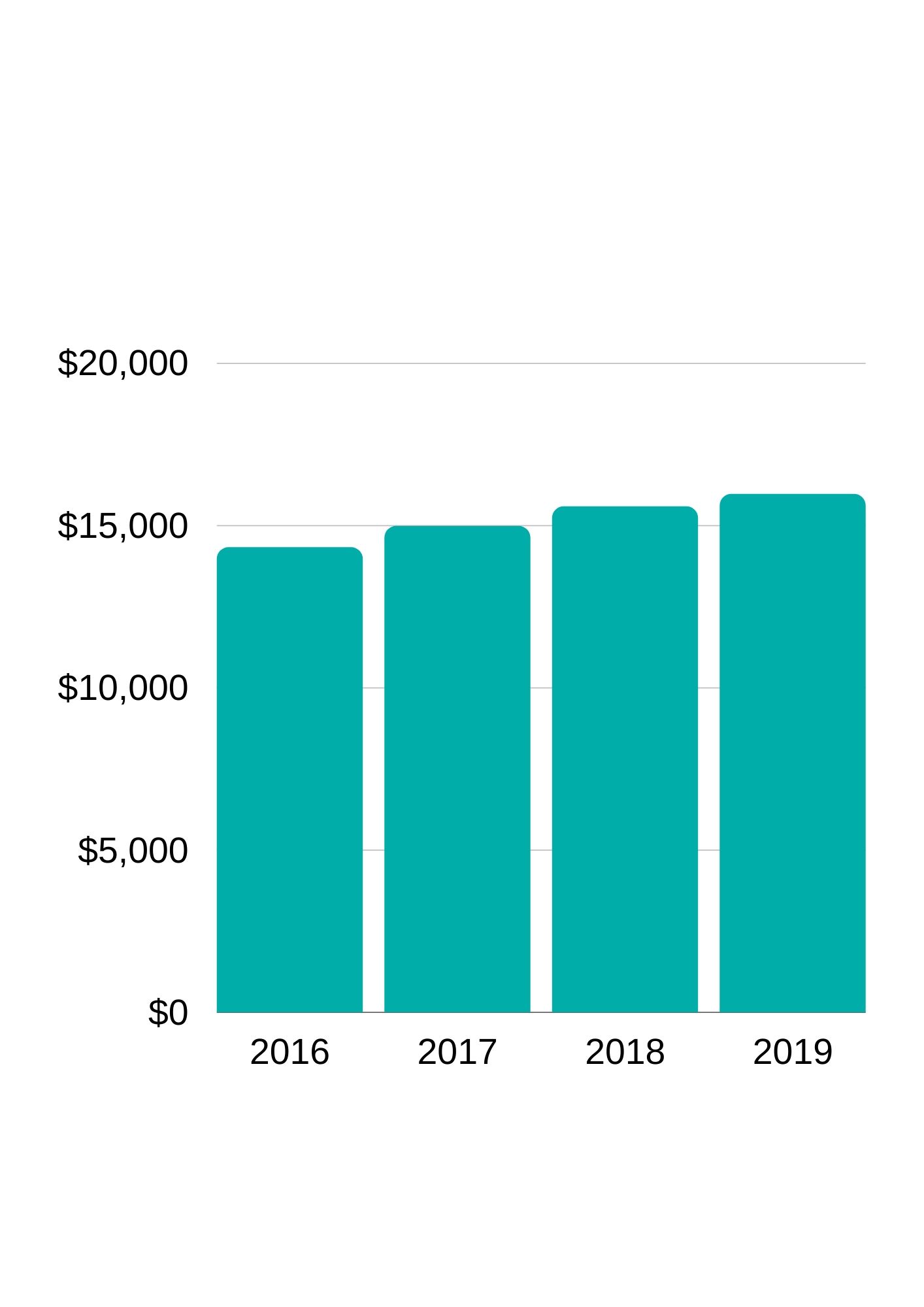 2016 $14,320
2017 $14,973
2018 $15,580
2019 $15,964
By gathering the top 30 wedding venue package information in Melbourne, we found the highest rate day is Saturday and Friday and Sunday have the second high rate. The Monday to Thursday wedding venues price per head is less than the weekend price.
In additional, bride could get better wedding venues package during winter. A rule of thumb, the 1st June to 31st August is recognized as off peak winter season for wedding.
Therefore, the off-peak wedding time would be Monday to Thursday as well as 1st June to 31st August. Bride and groom are more likely to negotiate a better deal with wedding venues manager on an off-peak wedding.
The wedding venues price per head in Melbourne starts from $100 all the way to$300. Also, most wedding venues has a minimum cost from $5,000 to $10,000.
The average wedding venue price per head in Melbourne is around $140-$160 in busy wedding season. You could get 30-40 % off wedding venues package in a winter wedding if you're lucky.
However, some popular wedding venues, such as Stones by the Yarra Valley and Luminare in South Melbourne, has little price movement, even during off peak wedding season.
You would get some bonus from some wedding venues, some wedding reception package includes some basic flower arrangement, DJ, 2 hours wedding photography and etc.
One stop wedding venue in Melbourne
In recent year, some wedding venues start to provide all in one wedding services, their package inclusive wedding venues, ceremony, celebrant, florist, photographer, videographer and etc.
You could get big saving to book this type of wedding venues which provide all in one package, however you would not get all your favourite suppliers on your wedding day.
Wedding catering cost 2016-2019 in Melbourne(23.7%)
Wedding catering would be second high cost in wedding budget in generally. There are most popular 4 popular styles of catering, according to Wedding and Bride magazine reports in 2019: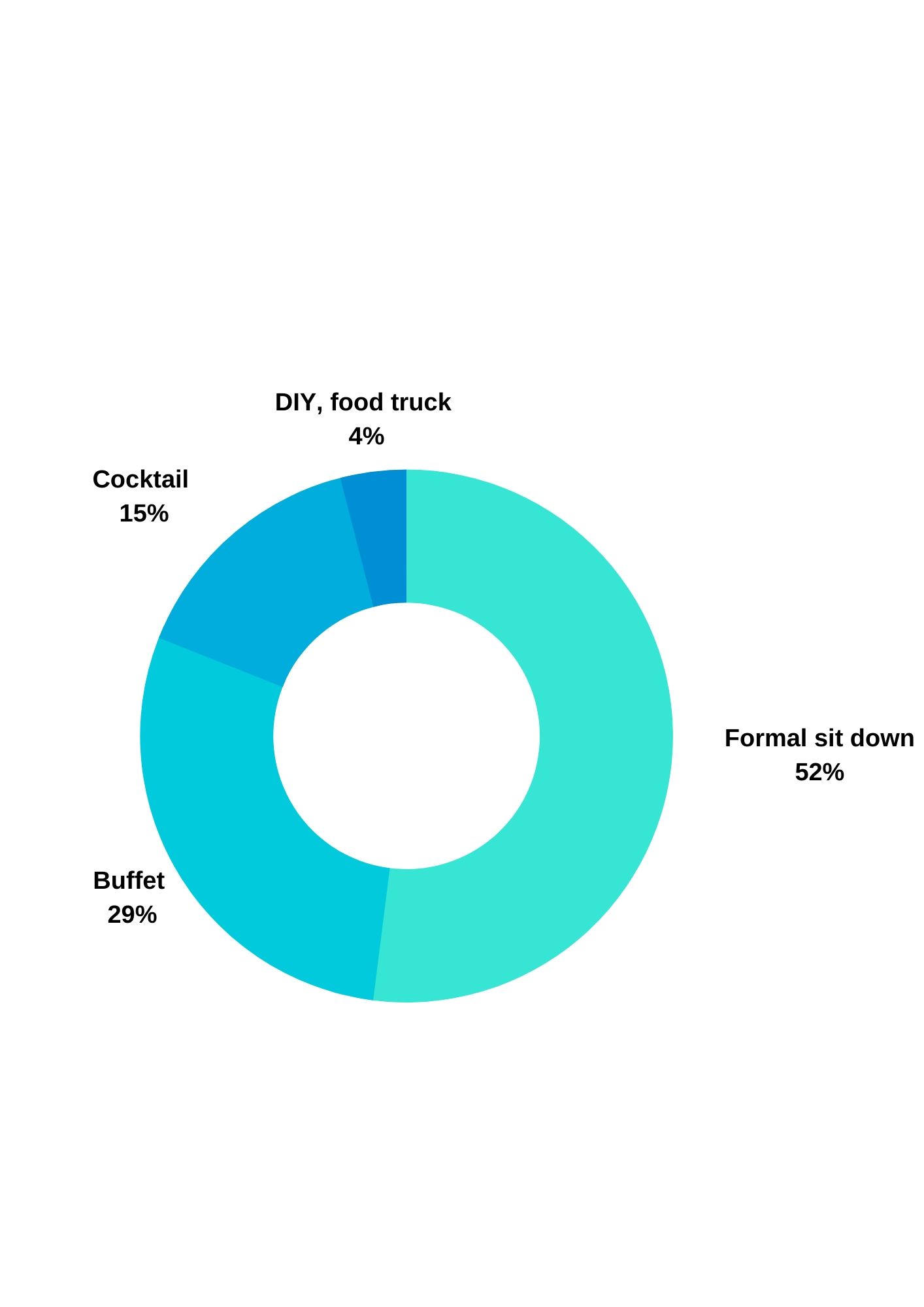 – Formal sit down (52%)
– Buffet (29%)
– Cocktail or finger good (15%)
– Other ie DIY, food truck (4%)
We can see the formal sit-down wedding catering is still most popular catering. Some wedding venues can provide seated dining and also cocktail wedding package, for the money wise, the cocktail wedding package is approximately 15-25% less than formal sit-down catering.
In the addition, the cocktail wedding has more capacity than formal sit-down wedding. That means you could invite more guests in a cocktail wedding at the same wedding venues, so the price per head would cut down.
2016 $9,895
2017 $10,531
2018 $11,527
2019 $11,947
Wedding photography cost 2016-2019 (5.8%)
Although wedding photography package only takes 5.8% account on total wedding budget in Melbourne, traditionally, wedding photography is always considered the top 3 most important suppliers in wedding planning. You have spent time and effort planning this once-a-lifetime event, wedding photographer will be the one who capture all of those for you. However, a wedding photography's price range would be significant different depending on his skill, reputation and package items.
Here is the average cost on wedding photography between 2016-2019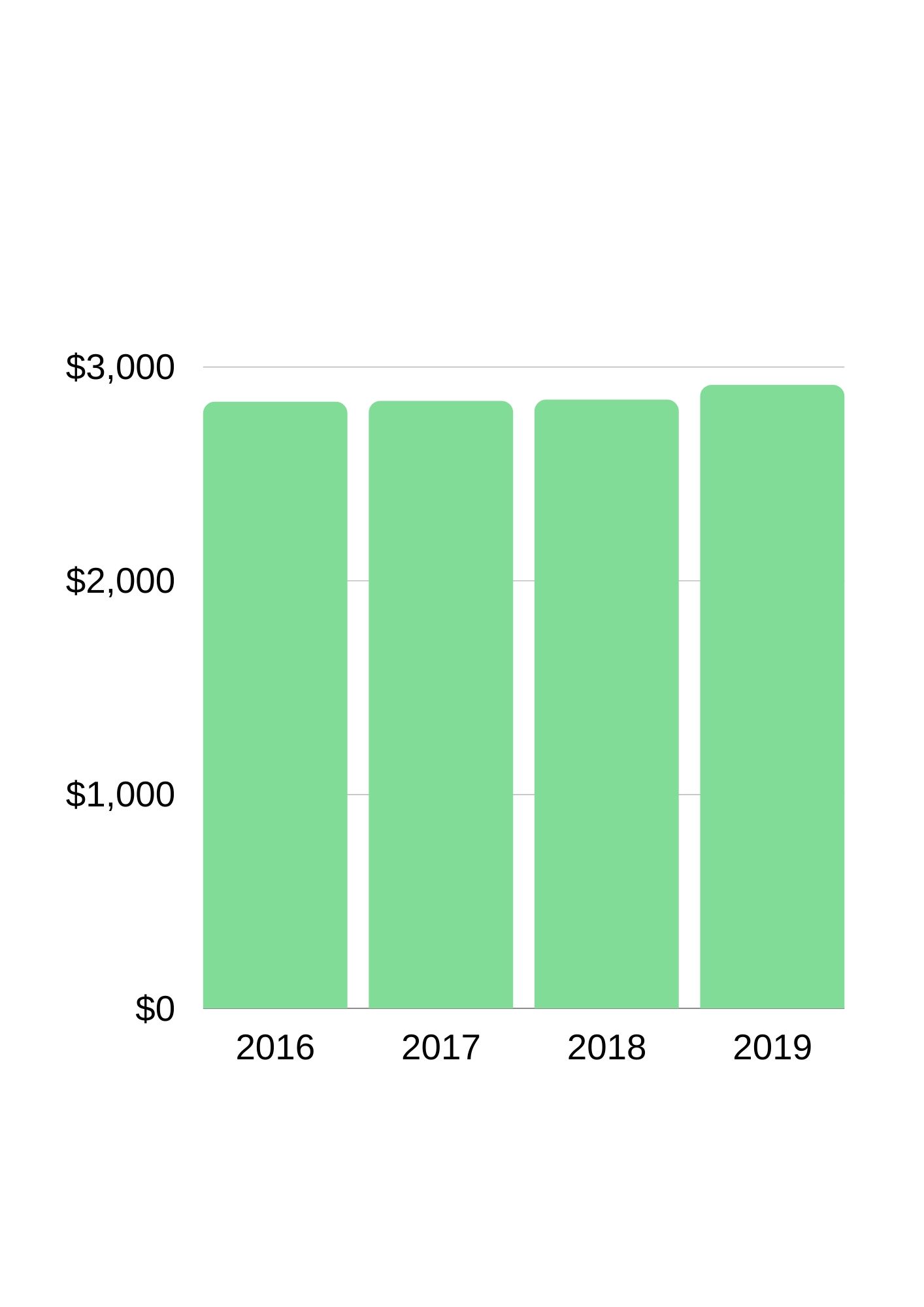 2016 $2,835
2017 $2,839
2018 $2,845
2019 $2,914
You could read our ultimate wedding photography package reports 2020.
Wedding dress $2,806 (5.58%)
According to Easy wedding and Hellomay research, bride would choose wedding dress at quite early time in brides' wedding planning journey. If you want to have tailormade wedding gown, you need to allocate around 8 months in advance of the wedding.
As human nature, our consumption scheme would be too conservative or radical during the earlier shopping stage because we don't have a clear insight on our total wedding budget. Just like you play a jigsaw puzzle game, you can't see the whole picture when you play the first few pieces.
Bride shall make a specific plan to get a reasonable price on wedding dress, for instance, get a couture wedding gown, dress on rack, online shopping, renting a dress or second hand (still white). You know which price tags suit your total budget.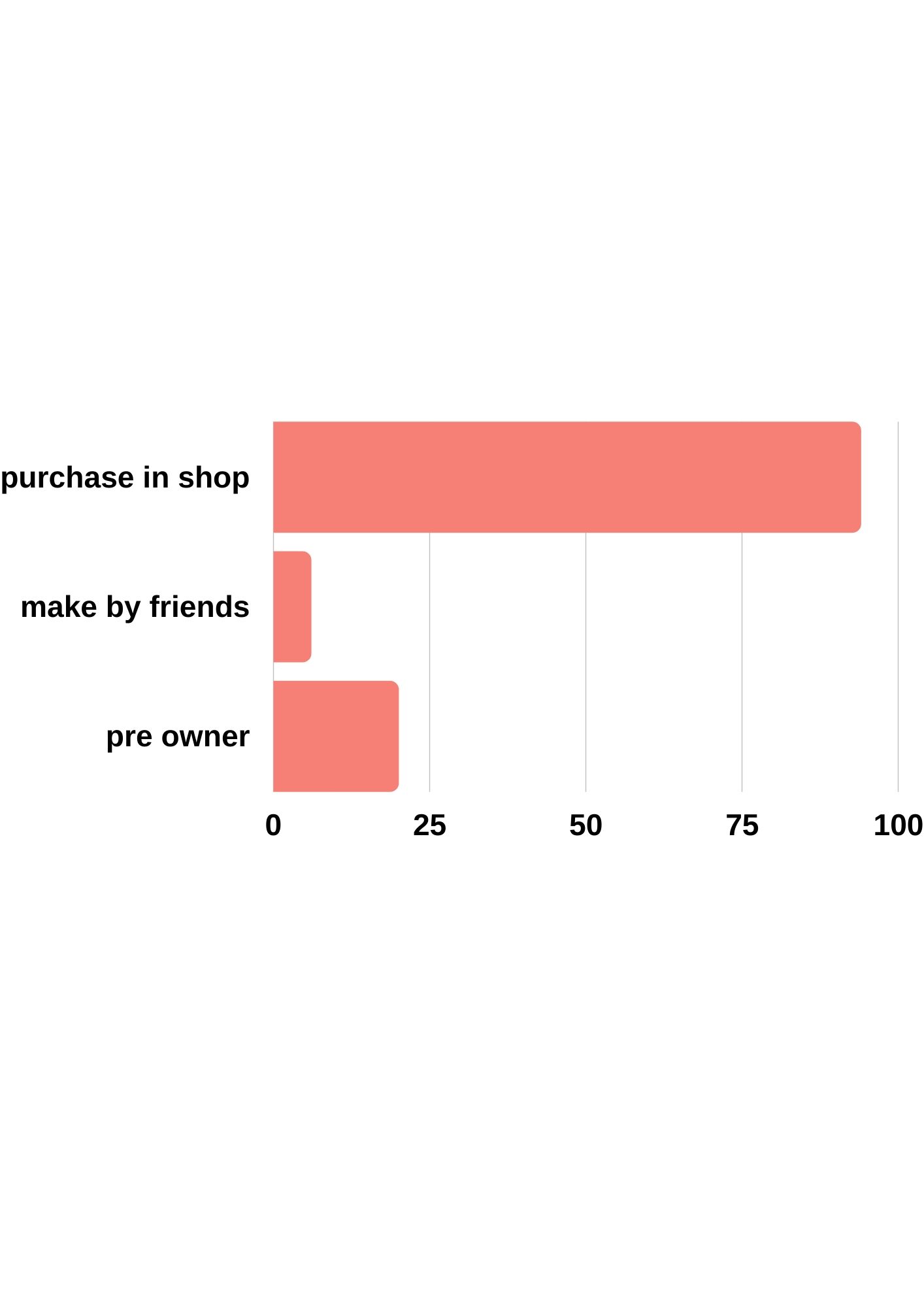 94% of brides would purchase a wedding dress.
6% of brides have family and friends to make their dress
20% of brides would buy pre-owned wedding dress
Apart from purchasing the wedding gown, you also need to take account of the cost of alternation, the alternation price in Melbourne can be varying from $500-$1,500 depending on how complicated the dress is. For instance, adding colour, removing or adding back straps.
Make sure you read the wedding dress contract carefully to avoid unexpected cost later on.
Here is wedding dress average cost in 2016-2019 in Melbourne
2016 $2,745
2017 $2,798
2018 $2,659
2019 $2,806
Wedding videography cost 2016-2019 (5.16%)
Wedding videography package is also considered as one of the costly supplier (5.16%) in wedding industry. Also, you could save significantly cost (6-10%) on wedding videography if you book wedding photography and videography in a same company.
Here is wedding videography package price movement 2016-2019 in Melbourne: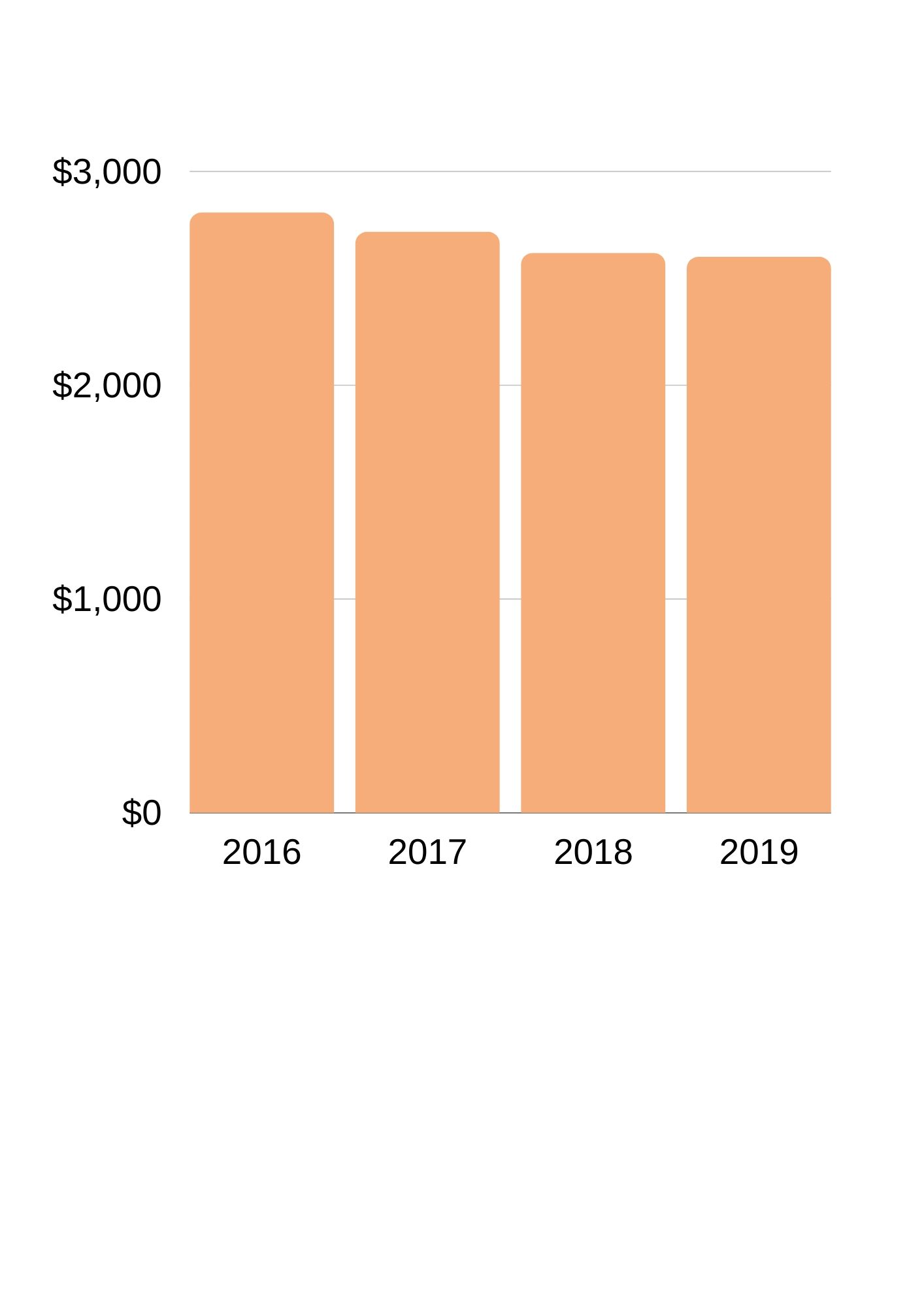 2016 $2,805
2017 $2,715
2018 $2,616
2019 $2,598
Compare to other wedding suppliers, the average cost of wedding videography package price shows a downward trend.
There are three major factors causing this phenomenon.
Firstly, the Sony Alpha series cameras (A7S A7R A7) had a revaluation in 2014, the Sony cameras swept the domination of Canon camera.
With a cheaper price tag than Canon cameras, more wedding videographer could buy higher quality cameras at a lower cost.
Therefore, the competition within wedding videography market increased since 2015.
Secondly, according to Bride Magazine 10,000 real bride report, brides tend to book a small package, for instance half day wedding videography package over the average wedding videography, hence the average spending on wedding videography drops down
Thirdly, more business operators integrated wedding photography and videography together. Back to 2010, there are not much company provided both wedding photography and videography service together in Melbourne.  In reality, the wedding videography price drops down due to being a part of a comprehensive package.
You could read our ultimate wedding videography package reports 2020.
Wedding flower cost in 2016-2019(3.28%)
There is no doubt that wedding flower plays an important role on your wedding theme and style. Choosing a sophisticated wedding florist can bring your wedding to the next level.
You might notice that most wedding florists do not have a package on their website.
The wedding flower price would be set depending on different season, how you want to decorate your wedding ceremony and reception.
The average wedding flower expense is $1,652 and takes account of 3.28% of total wedding cost. But it is the average package, there are many factors to impact the your florist bill, the major factors are the season, whether import flowers from overseas, the Valentine day also increases the price, also what services do you need.
The wedding flower price constitutes:
– Bridal bouquet
– Boutonniere
– Flowers for flower girls
– Ceremony flower décor
– Reception centrepieces
– Flower wall at bride house and wedding reception
– Hanging flower on the wedding venues
– Insurance would apply in some wedding reception
The wedding flower average cost in 2016-2019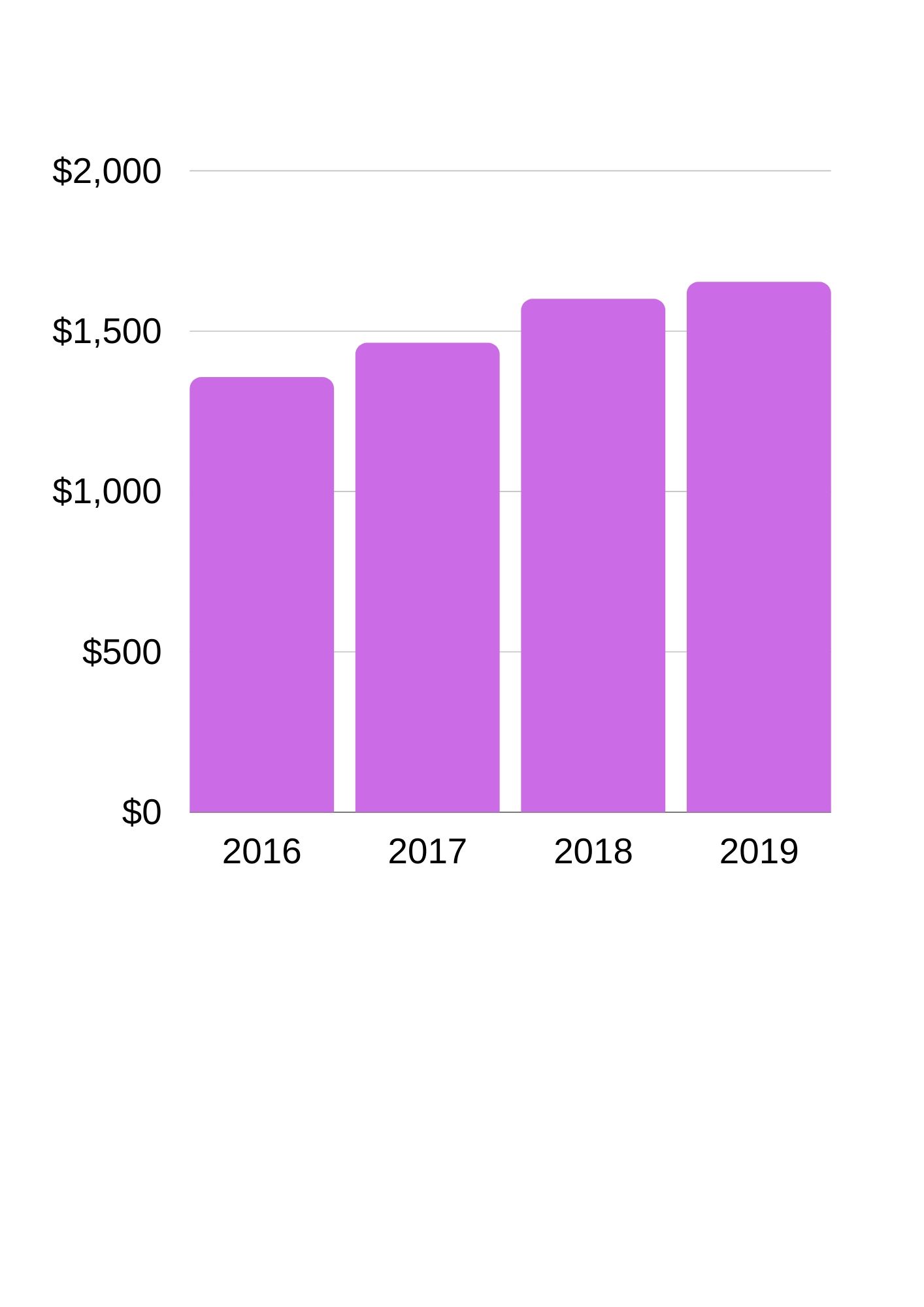 2016 $1,355
2017 $1,462
2018 $1,599
2019 $1,652
According to Easy wedding reports that 78% of brides would purchase the flower from wedding florists and 20% of brides would organize the flower by themselves or friends. Only 2% of brides do not use flowers.
For some bride want to organize flower by themselves, there are some major flower suppliers (wholesales) in Melbourne is here.
– Melbourne Markets in Epping
– South Melbourne Market
– Santospirito flowers in Footscray
– Fresh Wholesale Flowers in Tullamarine
Melbourne Markers in Epping is largest flower suppliers, all retails flower shop in Melbourne purchase flower in there. So the Melbourne Market generally keeps the lowest flower price.
Melbourne Market address: 315 Cooper St, Epping VIC 3076
Phone: (03) 9258 6100
You need to register a business before you go to the Melbourne Market.
5 tips to save your money on wedding budget
Tip No1.
Do a search on average wedding cost in Melbourne $33,891 in 2019
Tip No2
Understand how each supplier takes account on your total wedding cost. You could have price fluctuations between 5-7 % on each individual segment based on your original wedding budget.
Tip No3
Knowing your priority.
Wedding venues, catering and photography and dress take account of the total budget more than 60%.
You may want to spend more time researching for better deals on those high value wedding vendors.
Normally, bride would meet 3-5 different vendor in each category. Keep in mind, you don't have time to meet all wedding vendors in this market. Also generally speaking, grooms has less patience to shopping around than brides on wedding.
Tip No.4
Don't pay too much on one certain wedding supplier even you fall in love with his or her service. It can lead you breaking your original budget too much and you end up have to sacrifice other wedding service and products later on.
Think about playing a game in Casino, you won't All In your money in one game. Keep the same tactics on wedding budget.
Tip No 5 Don't be tempted by a  cheap price that looks too good to be true, there would be hidden costs and unexpected landmines later on. Read through the terms and conditions with caution before you pay for the deposit.
Remember there is no free lunch in the world.
To plan a wedding budget is just a beginning. You would have more questions to ask, for instance, where you can held your wedding ceremony in Melbourne? Whether it request permission. What is most popular wedding venues in Melbourne.
For question about wedding cost in Melbourne or other questions relate to wedding, you could contact us.