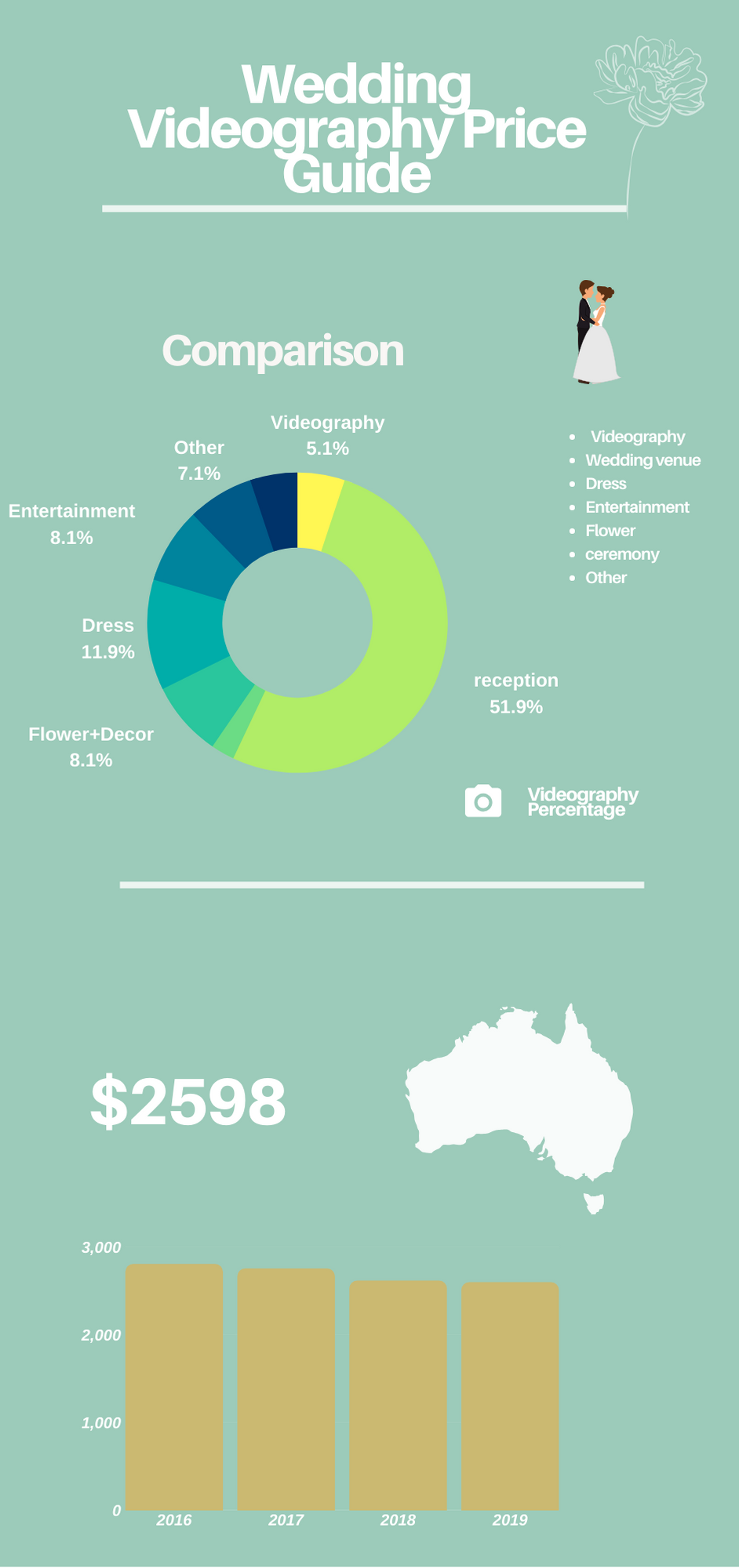 Every bride wants to hire the best wedding videographer in Melbourne to get the 'WOW' wedding film to show her girlfriends.
No matter how much you love a particular wedding videographer's work, you need to check the wedding videography package price before you meet them.
Beyond obvious, you don't want to see your love's indescribable expression when he finds out the wedding videography cost is far more than his expects.
Do you know how much does wedding videography cost in Melbourne?
In this blog I'll provide you a clear insight of affordable wedding videography package price guide by unfolding the average wedding videography cost in Melbourne, package details and extra options which the standard package excludes.
Also, you will learn 3 easy tips on saving your wedding videography budget in this blog.
What is average wedding videography cost in Melbourne in 2020?
According to Easy wedding 2019 analysis and report, the average wedding videography package is $2702 in Australia wide and $2598 in Melbourne/Victoria.
Track back to 2016 to 2019 wedding cost report, we can go further to see the wedding videography price movement: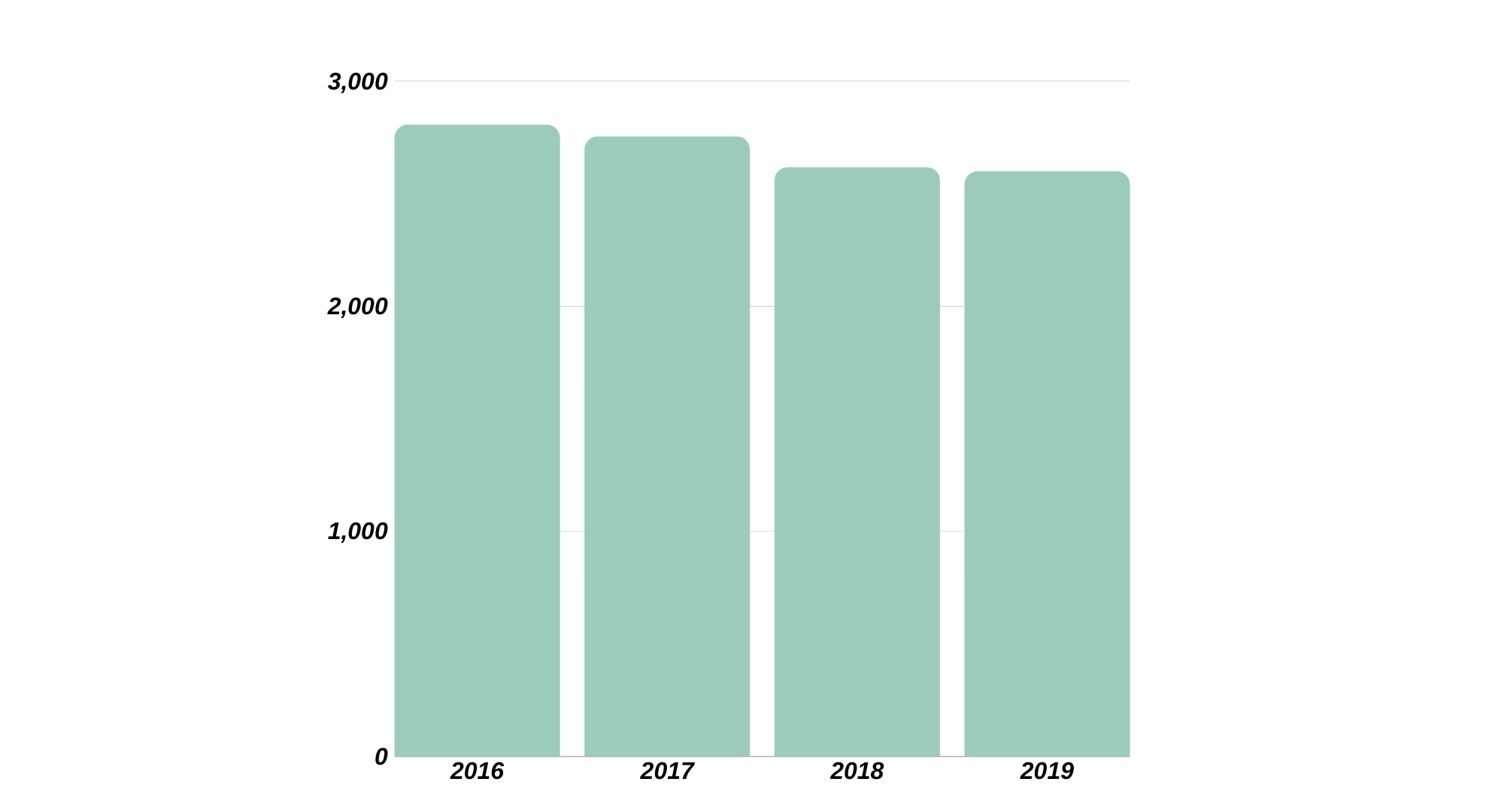 2016 $2805
2017 $2753
2018 $2616
2019 $2598
Compare to Australia inflation rate movement, you can see the Australia inflation rate had a gradual increasing trend from 1.28% to 1.97% in last 4 years.
| | | | |
| --- | --- | --- | --- |
| 016 | 2017 | 2018 | 2019 |
| 1.28% | 1.97% | 1.93% | 1.61% |
The wedding videography package decrease in last years, the video price movement seems The wedding videography price's downward movement seem to be contradictory to the Australia inflation increasing trend.
In fact, there are 3 major reasons leading to this phenomenon.
Firstly, with the entry level video camera, for instance, DLR and mirrorless cameras getting more popular and affordable, students and freelance wedding videographers kicked off their business more easily. Obviously, most of them choose low price market strategy to drop down the average wedding videography price.
Secondly, lots of wedding photographer and videographer realize that the cooperation is better much than fighting alone in this competitive market. Therefore, they make the combination of wedding videography and photography package and the combination package is cheap then booking separately.
Thirdly, younger brides intend to book smaller wedding videography packages, because they don't have enough saving after graduation in the first few years. They will usually choose 4 to 6-hours small wedding video packages.
Forecast of wedding videography price in 2020 and 2012
One thing we shall not ignore is that there are lots of uncertainty factors in wedding videography package price trend due to the effects of Covid-19. Lots of bride have to postpone the wedding resulted from the tough restriction by the Daniel Andrews government.
In this article, our focus is not on politics, while everyone has own standpoint, I don't want to judge whether Daniel Andrew's tough policy is right or wrong.
We only concern the results to bring on wedding videography price trend in 2020 and 2021.
From the basic economic theory, the price is decided by demand. If the demand increases, the price would go up. Due to lots of postponement, the wedding videography demand would significantly increase when the bride and groom recovery the confidence after the 6 months lockdown time.
Therefore, the wedding videography price in Melbourne would go up according to generic economic rules, however we shall not make such hasty conclusion by one generally knowledge.
Covid-19 pandemic is absolute a black Swan event, we shall track back to last major pandemic across entire world which is the Spanish flu 1918 Pandemic (H1N1 virus). And check how did the Spanish flu effect the economic.
Reserve bank Australia publication points out that the Spanish flu had effect on people daily economic behavior, the Australia GDP was reduced by 6% after Pandemic and USA's manufacturing reduced by 18%.
For this case study about Spanish flu, Australian would suffer income shrink in 2021. In contrast, the wedding videography storage would stimulate wedding video service demanding.
Both factors make effect on the wedding videography cost in 2020 and 2021.
We can get a forecast that the wedding videography package price will remain relative balance in same level. So, the wedding videography price would be around $2598 in 2020 and 2021.
How to get affordable wedding videography package?
Back to the old age, bride only could get information of wedding videography prices via yellow page, magazine and friend's mouth. The traditional way to gather information is slow and limited.
In modern world, you could get most information from Google, Facebook and Instagram. Everyone has different search behaviour and they have different favourite platform to use.
But do you know you might get different prices from Google and Instagram?
Sophisticated wedding videographers use different platform (Google, Instagram) to reach to their bride and groom, because people use different platforms have different shopping behaviour.
In this part, I do a wedding videography price comparison on Google and Instagram.
Why I don't include Facebook?
In fact, Facebook bought Instagram in 2012 for $1bn, we can consider Facebook and Instagram as a same platform and the wedding videographer use quite similar price strategy on FB an Instagram.
To make sure the experiment figure is accurate and honest.
I use Google organic search and avoid Google ads, I use group of search phase, such as 'wedding videography price', 'budget wedding videography in Melbourne', 'Melbourne wedding videography package price'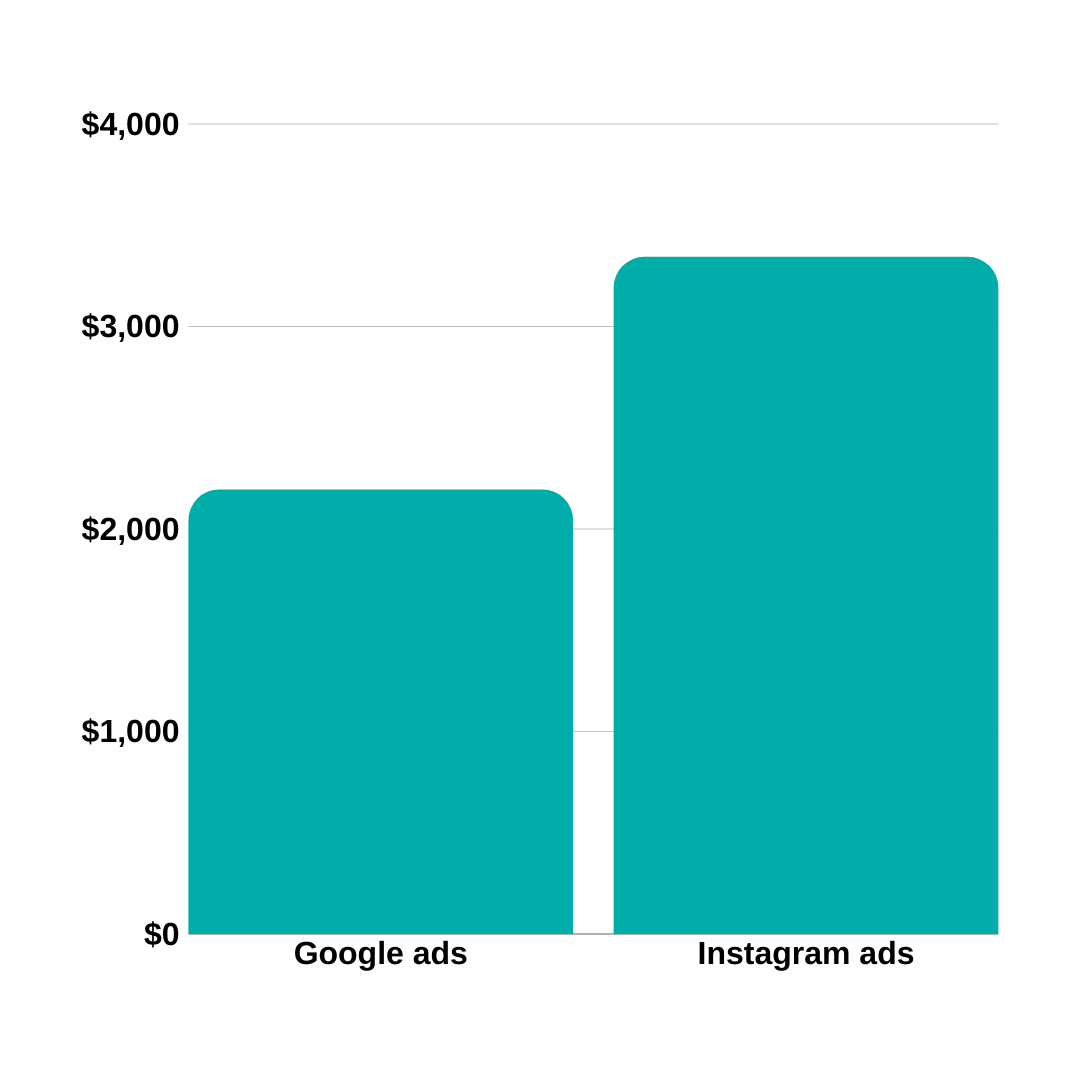 On the other side, I set my Instagram account as 28-year-old female whose recent interest is wedding related, to let Instagram provide more precise results, except wedding photographer, I also follow some wedding dress, venues, florist vendors.
There are several rules I set for this experiment.
30 days as timeframe

15 wedding videographers as a group

Set the 8 hours wedding videography package as a reference

Exclude any extra cost, for instance, second videographer, drone and travel
After 30 days experiment, we found the average wedding videography package on Google is $2385 and Instagram average price is $3418.
There is huge price gap ($1033) between Google and Instagram.
You could save 30.2% on wedding videography budget by using Google.
I need to say Google completely win the price game over Instagram. You are more likely to get affordable wedding videography price from Google searches.
From this experiment, we occasionally find the other unexpected facts, Instagram will give you different wedding videography price which depends on phone systems you use.
The Apple IOS system phone lead to more expensive wedding videography package prices than Android systems do, same for the old phones, which generally lead to cheaper prices then the new phone do.
Even more, a male account can get cheaper wedding videography price comparing to a female Instagram account.
Why it causes this reason?
In fact, the wedding business vendor can design different price range for different group of bride and groom via Instagram ads.
Generally, clever wedding videographers assume groom to be would  put more priority on money factors than bride to be as well as Apple ISO phone users who tend to spend more money than Android phone users.
This market tactic is quite common on insurance and online shopping, when you are going to book a wedding videography service on Instagram. Hold one minute, you might get a better deal to use your boyfriend's phone and Android phone.
What is the difference of wedding videography price at different aera?
To further dig in, bride-to-be would get married in different wedding location, Melbourne city, Yarra Valley, Dandong range, Mornington Peninsula and Geelong.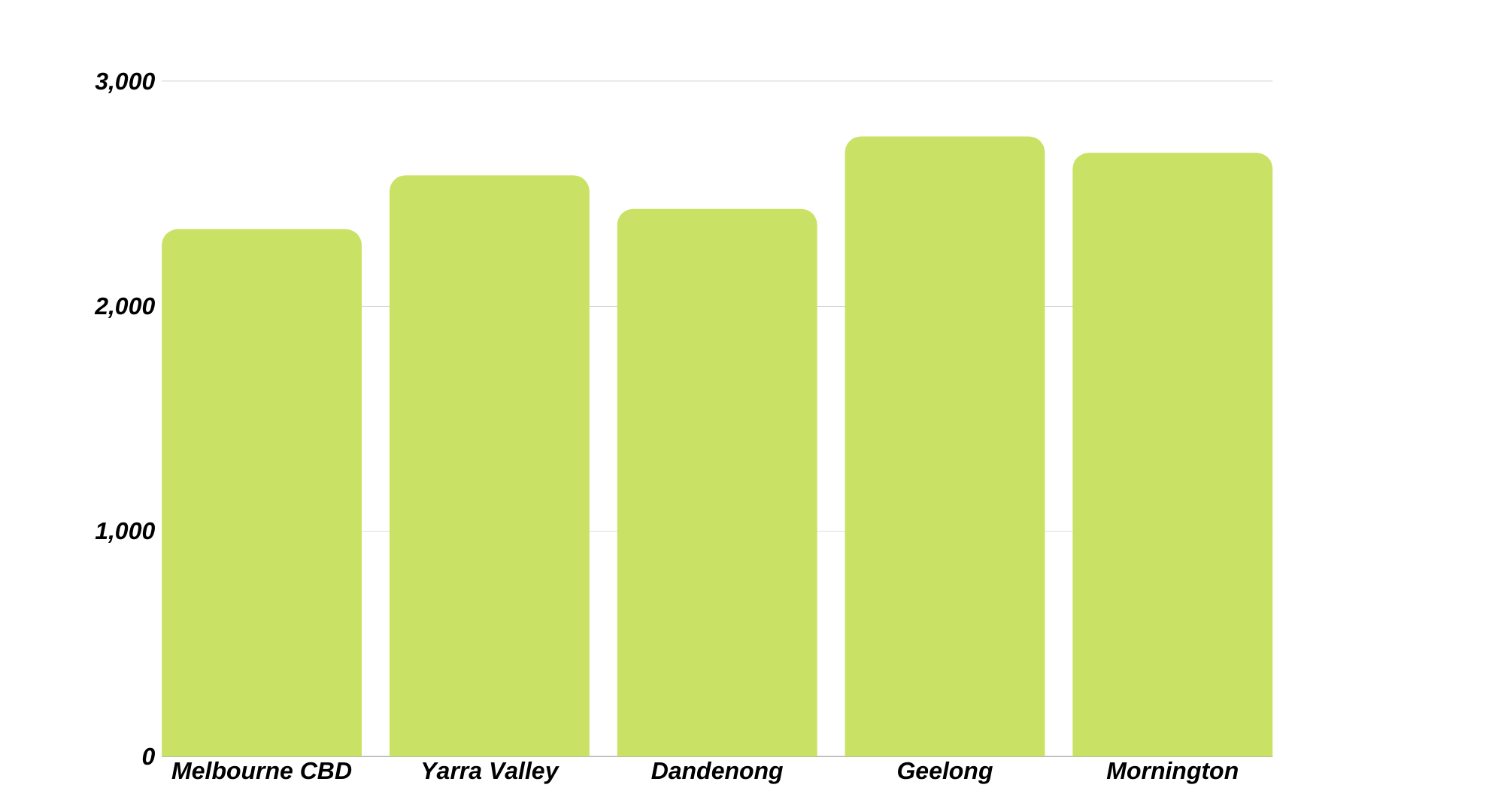 While wedding videographers are distributed different region and they focus on different area, for instance we found some wedding videographer most work on Yarra Valley and Dandenong range on their website.
I have done similar experiment like price comparison on Google and Instagram experiment.
Compare to price comparison on different platforms, price comparison data is little bit short in regional price comparison, because in some area there are not enough wedding videographers to use for experiment.
There are rules to set in this wedding videography price in Melbourne city (CBD), Yarra Valley, Dandong range, Mornington Peninsula and Geelong experiment.
30 days as a timeline

Select 10 wedding videographers as group in each regional

Only gather organic search, exclusive Google ads and Instagram sponsored

Set 8 hours wedding videography as benchmark and exclusive extra option
After 30 days experiment, we gather the information below,
Melbourne CBD wedding videography package average at $2341

Yarra Valley wedding videography package average at $2580

Dandenong range wedding videography at $2431

Geelong wedding videography at $2753

Mornington wedding videography at $2680
Surprisingly, wedding videographers located in Melbourne city or inner suburb (30 km) are cheapest within 5 different groups and Geelong wedding videography is the most expensive.
There are two factors to cause this result. In this experiment, we found more than 50% of wedding videographers are located in Melbourne city and inner suburb or focus on Melbourne city market.
Therefore, there are intensive competitions of wedding videography packages in Melbourne city . In economic theory, the price is determined by the relationship of supply and demand. The excessive wedding videography suppliers in Melbourne city cause the price to go down.
The second factor is wedding venues in Yarra Valley became so popular for weddings in the past 5 years. The wedding venue fee  in Yarra valley is higher than Melbourne city and inner suburbs.
The average wedding venue fee in Yarra Valley is around $200 per head in 2020.
The average wedding venues in Melbourne city and inner suburb is around $150 per head in 2020.
Therefore, the brides who get married in the Yarra Valley will increase their total wedding budget and wedding videography packages in Yarra Valley become expensive than Melbourne City.
Brides are more likely to get a better deal when booking wedding videographers located in Melbourne city and inner suburbs.
What is percentage of wedding videography in total wedding budget in Melbourne?
Every bride has different wedding plan and wedding budget in mind.
Regard to government's website Moneysmart announcement, the average wedding budget is $36,200 in 2019 in Victoria.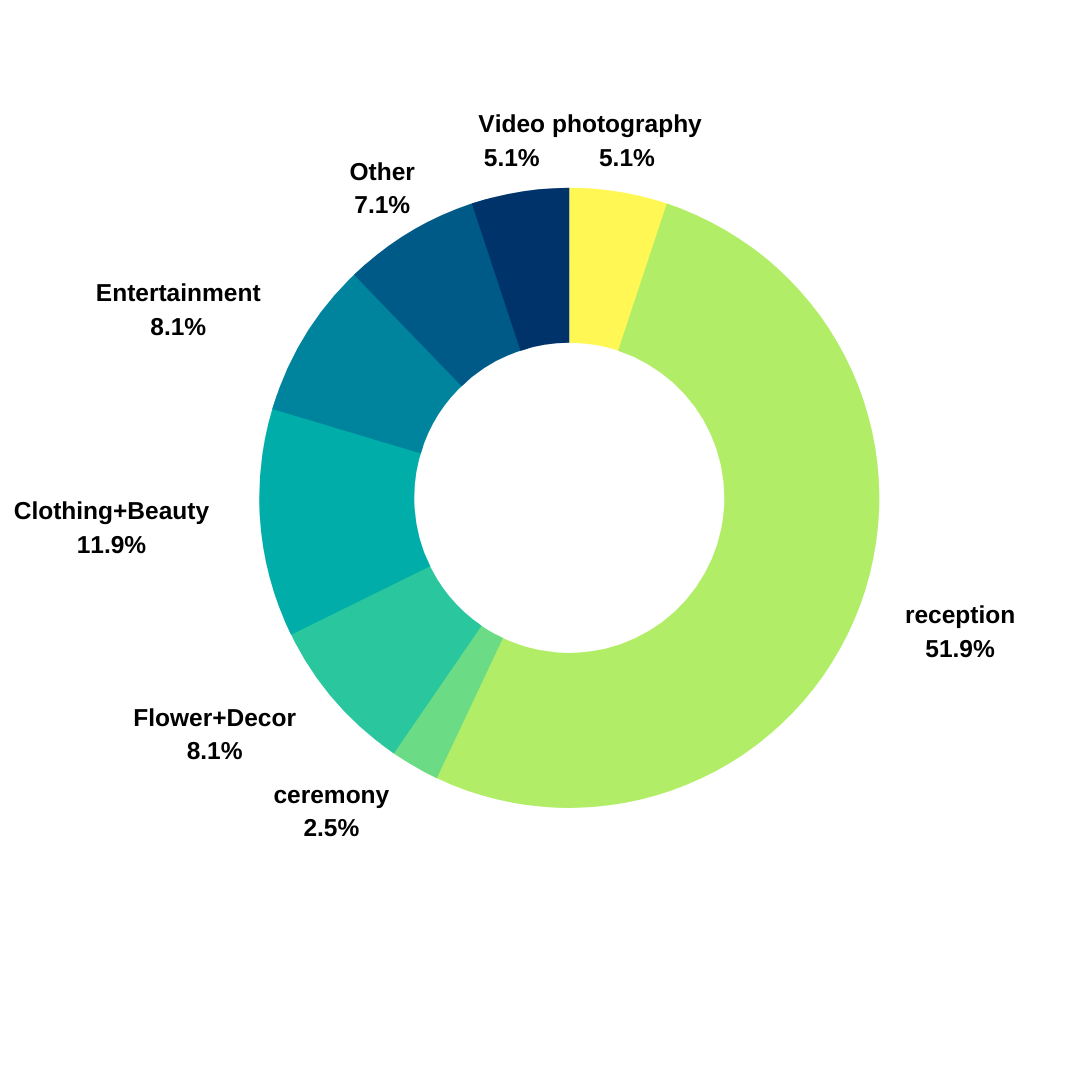 $ 3,983- Wedding Photography and videography

$18,683- Wedding venues, food, drink

$2,896- Entertainment

$2,896-Flowers and decoration

$941- Ceremony and celebrant

$4,271- Wedding dress

$2,534-Other (makeup, hair, cars, accommodation and etc)
We can see the wedding photography and videography expense contribute to 11% on the total wedding budget in Melbourne in 2019.
If you think wedding videography is equally important as wedding photography, you would invest 4-6% on your wedding videography.
Why wedding videography is so expensive in Melbourne?
Some brides complain 'why this greedy wedding videographer is more expensive than my dentists and lawyers.'
Dentist and lawyer generally have notorious names due to their high charges.
How come the wedding videography hour rate is more expensive than those two careers?
Listen, you are not only paying the wedding videographer to capture your wedding day, also a professional wedding videographer would give your guide and assistance to ensure your wedding run smoothly and they have intensive labour work of editing wedding video highlight after your wedding.
You pay for your wedding videographer, their knowledge, caring and professionalism. Not only he will show up on your wedding day, a wedding videographer always stay with bride and groom throughout the wedding day, they have enough knowledge to share with you.
If you have any questions matter to your wedding, call them, email them and use them. They can't refuse a bridezilla's questions before the wedding day.
In addition, from this blog, we discuss the affordable and budget wedding videography in Melbourne. I don't want to lead you to extreme expensive wedding videographer.
I recently have read other wedding blog to discuss the wedding videography price, he suggests the average cost of a good wedding videography is $4000-$8000.
'Hi man, unless you pay lip service for your answer, otherwise I assume this is your wedding videography package price range. Also, what is 'GOOD' in your opinion? It is a subjective judge, do you want to say if the bride can't pay you above $4000, she will get a BAD wedding videography service ?'
As the human being, we say lie 7 times every day. However, the number won't lie to you.
According to Easy wedding 2019 analysis and report and government website Moneysmart demonstrate that the average wedding videography is $2598 in Melbourne/Victoria. I repeat here once more.
What is includes in affordable wedding videography package?
Bride should have a clue on the average wedding videography price in Melbourne now. Furthermore, you would want to know what you would receive in a standard wedding videography package.
In this case, I will use TREE STUIDO's wedding videography package as an example.
ESSENTIAL MEMORIES
$1,799
6 hours filming coverage

ONEvideographer

4 minutes video highlight reel

Long version wedding footage video on the USB

12-month online video highlight showcase

Pre-wedding consultation with videographer
With Second Videographer $2,449
POLISHED MEMORIES
$3,499
14 hours filming coverage

ONEvideographer

7 minutes video highlight reel

Long version wedding footage video on the USB

12-month online video highlight showcase

Pre-wedding consultation with videographer
With Second Videographer $4,349
This package is placed on the wedding videography package page, I didn't change any number or descriptions by my personal will.
We can find Tree studio's basic wedding video (6 hours) package starts at $1799 which is lower than average price of wedding videography package in Melbourne. However, if brides are looking for longer package, for instance, the 14 hours video package, the price start from $3499.
I assure Tree studio wedding videography package medium package fits the average wedding video package in Melbourne, it can be tag as affordable wedding videography package.
Let's look in for more details.
What you could get from the affordable wedding videography package?
On Tree studio website, it lists the 4-7-minute highlight reel and long version of live footage, USB and pre-wedding consultation.
I think some bride like me would get confused about those wedding videography terminology. I have done some research on those terminology, I found other wedding videography companies use different names to describe their production.
In here, I want to give bride and groom a clear explanation in simplest words.
Highlight reel/film

Live footage/Feature film

Pre wedding consultation/meeting
Highlight reel: a highlight reel is normally edited in length from 4 to6 minutes which it depends on the length of wedding coverage, it represents the best moments throughout your wedding day, from the bride and groom's preparation towards to the first dance in reception.
The wedding film's structure can follow chronologically storyline and flash in and cut away which you could discuss with your wedding videographer.
To make the highlight reel well-polished, professional wedding videographers would color correct and grade the footage according to your entire wedding color theme.
You could select the music only for the highlight reel background music or apply the voiceover to create a narrative style of wedding video.
Live footage/ Featured film: You're expect to receive the professional wedding videography edited version. The length of live footage is one to one and half hours which depends on your wedding video package.
Compare to the unedited RAW footage, the editor would cut off some unpleasant of footage, such as blur, shaking and repetition.
Generally, the featured film edit compliance on the chronologically storyline from groom and bride get ready, ceremony, location and reception.
Pre-wedding consualtion/meeting: you normally meet your wedding videographer at least twice before your wedding. First time, you pay money when you want to trust this guy.
Second time, you need to go through your wedding day details and wedding timeline and perhaps you can discuss your wedding video style during the pre-wedding meeting.
You get the affordable or budget wedding videography package guideline. What if you want to bring your wedding video to the cinematic level, how much it would cost?
Here I made a list of options on wedding video you might consider:
The second wedding videographer:
Some traditional Lebanese, Vietnamese, Macedonian, Chinese weddings require two cinematographers to capture, because they have traditional custom occur at both groom and bride house in the morning. So it needs two wedding videographers to film at different location at the same time.
The two wedding videographers can capture the cherish moments from different angles and create a cinematic look and feel.
The second wedding videographer's cost would be $150-200 per hour in Melbourne, normally you could get a better deal when you book a luxury wedding videography package.
Drone footage: the drone or aerial shoot can create a cinematic image from unconventional angles, normally from bird view which the wedding videographer can't reach the position except super hero in Marvel films.
The cost would be $500-$800 for wedding drone service in Melbourne.
Same day editing- if you want to entertain your guests during your wedding reception and showcase the wedding film during the day, Same day edit service can be a great idea.
The same day edit (SDE) wedding video cost is around $1000-1500 in Melbourne generally.
Travel cost– If your wedding location is far from Melbourne metropolitan region, for instance, the border of Victoria and NSW, Yarra Valley, Geelong and Mornington wedding, you might be charged for travelling cost.
The travel cost would start from 1 to 3 dollar per Kilometre, also you will need to provide the wedding videographer air tickets and accommodations if you are planning a destination wedding.
You shall consider all of the factors before you pay the deposit, it can avoid you paying unexpected money later on.
Have you ever considered to book wedding videography and photography at a same company?
Some wedding videography company provides wedding photography and videography full package, the package details are attached in below.
ESSENTIAL FULL PACKAGES
$3,999
Photography Package:
– 8 hours photography coverage
– ONE photographer
– 2 enlargement prints 20*16 inch
– Unlimited images taken
– All High Res Original Photos on the USB
– Pre-wedding Consultation with Photographer
Video Package: 
–  8 hours filming coverage
– ONE videographer
– 5 minutes video highlight real
– Long version wedding footage video
– 12-month online video highlight showcase
– Pre-wedding consultation with videographer
Album
12 x 8 inch (20 sides) Luxury leather bound album
I know you would still have questions until you read here.
3 easy tips to same your money on wedding videography package in Melbourne in 2020
Here are 3 easy tips you would consider when you make a plan on your wedding and why not save a reasonable amount on wedding videography and you could buy a pair of new shoes?
Tip 1: you could get more affordable wedding videography from Google search than Instagram and find a honest wedding videographer, if you can't find the wedding videography package on his website, he might provide you different price which depend on your shopping behavior.
Find a honest and transparent wedding videographer would give you a better experience from the beginning.
Tip 2: you are likely to find more affordable wedding videographer who located in Melbourne city and inner suburbs, Geelong wedding videographers would be the most expensive  out of all regions.
Tip 3: You would get a better price if you book wedding photography and videography service together, the combination of wedding video and photo package are usually approximatley 10% less than booking them separately.
Thank you for reading this long blog , if you have further questions, such as top 25 questions you shall ask before hiring your wedding videographer, wedding videography workflow, you could contact me here.