| From a Wedding Industry Insider |
For the Melbourne brides-to-be who are organizing your Luxury weddings, you are now reading a Blog with a list of finest wedding venues and service suppliers.  
We know to bring all the lavish pieces together and make your own spectacular and epic weddings are challenging and we know dealing with the information from all the potential suppliers is overwhelming.  This list is created to help you get out of the stress and save your time to find your perfect wedding venues and suppliers.
I am a Melbourne wedding photographer with 8 years of wedding experience behind me. I am writing this to help you get away from the possible wedding mess up. Wedding is a once in a lifetime event worth to be treated carefully and thoroughly
To assist you to have a smooth and stress-free D-Day,  below is a list of Luxury wedding venues and service suppliers. All the names I listed are based on my years Melbourne luxury wedding photography experience, not the other reasons. 
---
1. Luxury Wedding Ceremony Locations in Melbourne
In Melbourne. most of the luxury wedding ceremonies are organized indoors or under covers. The bride can keep her dress clean and don't have to worry about Melbourne crazy weather. As Melbourne is a multi-cultural and multi-faith city, below is my favorite Catholic church, Orthodox church and civil venue for a wedding ceremony in Melbourne.
Richmond Catholic Parish of St Ignatius
Set on the Church Street, St Ignatius Church Richmond is a one of the largest Catholic church for a lavish wedding ceremony. The convenient location, the spectacular city view in the backyard are all the bonus when you choose to get married here.
Antiochian Orthodox Church of St Nicholas
When you choose the Orthodox blessing for your marriage in Melbourne, this beautiful church is definitely the place. Nested in East Melbourne, this place simply a gorgeous and epic place for your wedding. I still remember my very first time to capture a wedding there, the interior architecture is breathtaking.
The Dome in 333 Collins Street
When you are after a civil wedding ceremony place for your luxury wedding, The Dome in 333 Collins Street is a great option. Located in Melbourne CBD, the dome can suit your luxury wedding perfectly. The historic heritage listed and National Trust classified venue with the tunnel-vaulted ceiling, granite columns and arches have been selected as the world finest structure by British Society of Architect.
---
2. Luxury Wedding Reception Venues in Melbourne
To be the reception for luxury weddings, the guest capacity, the style, the location and the food are the most important factors you need to consider. Melbourne is a city with multi-culture. When it comes to luxury weddings, different community have their own preferred wedding receptions. I will list some major community choice below.
The Manor on High, Epping
Sheldon Receptions and Convention Center, Sunshine West
Lakeside Banquet & Convention Centre, Taylors Lake
These three reception weddings are perfect for luxury weddings with an extreme long guest list. All their largest reception rooms have the capacity to seat more than 600 people. They are the preferable luxury wedding venue choice for the communities such as Lebanese, Macedonian, Vietnamese who normally organize the large celebrations.
Luminare, South Melbourne
When it comes to a wedding with around 250 guests, Luminare is on top of my luxury wedding venue list. Set as the best Rooftop wedding reception in South Melbourne. Luminare is a gorgeous and stunning venue with a super convenient location. 
National Gallery of Victoria, Melbourne
Set on the St Kilda Road, National Gallery of Victoria is the place when you prefer to combine luxury weddings with an artistic and contemporary atmosphere. 
Stones of the Yarra Valley, Coldstream
When you plan to have a luxury wedding a bit away from the city traffic, Stones of the Yarra Valley is the wedding reception venue for you. Set in the national famous winery suburb and filled with the country and candid feelings, it is the perfect place for winery weddings in Yarra Valley.
Plaza Ballroom, Melbourne
Known as the most spectacular and impressive wedding reception in Melbourne, Plaza Ballroom in the heart of Melbourne is the high-end choice for wedding receptions. The history, the elegance and the splendour of this venue are simply unmatched for the luxury weddings in Melbourne.
---
3. Elegant and Unique Wedding Stationery and invitations
When it comes to the stationery and invitations for luxury weddings, it may be particularly stylish and elegant, with the feature font and metallic detailing.
Mazzi Collection
Paper Jam Studio
These two wedding stationery suppliers are on top of my list. Through our photography and film process on the day, we found out the invitation card from them come with the best quality and finest detail.
---
4. Luxury Wedding Decorators, Stylists and Planners in Melbourne
For the luxury weddings, decorations and styling are always play a key role to deliver a truly lavish and epic atmosphere. The chandeliers, the table centrepieces, the flooring for the dancing pool, the bridal table floral, greenery and the ceiling decoration are all the important factors for luxury weddings. Melbourne is a multi-culture city and couple gets married have their own preference and concerns according to their cultural traditions. My recommendation list includes one for classic luxury weddings, one for high end candid and rustic weddings, and one for Melbourne wedding industry insider's favourite choice.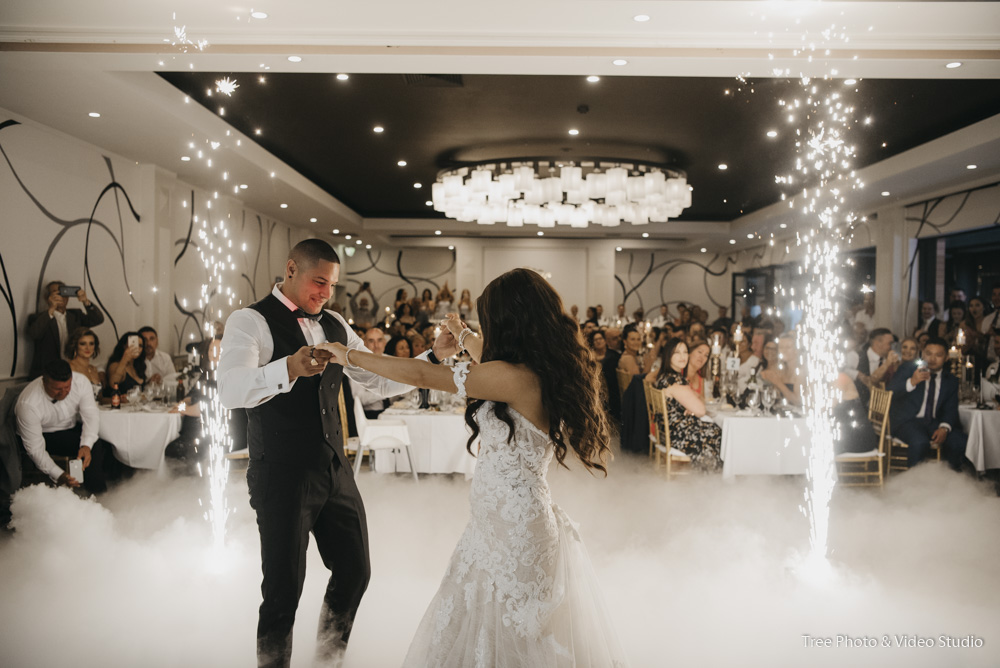 Wedding Photography with Amica Event Hire's work
Amica Event Hire, Northcote
Amica Event Hire is a wedding industry giant in Melbourne specialized on high-end wedding decorations and furniture hire. Their ability to rise lavish and epic weddings have been proven on the market. Nearly half of the luxury weddings we photographed or filmed every year have Amica Event Hire participated. When you planning a classic luxury wedding, Amica Event Hire is the answer to your decors and styling.
Style Empire and Co
Based in South Carlton, Style Empire and Co is an industry well-recognized luxury wedding stylist. I have seen so many couples who have a successful business in the wedding industry choose them, and there is definitely a reason that they are so highly recognized by the industry insiders who are planning the modern epic and luxury weddings.
The Style Co
When you plan a high-end Boho or rustic wedding with a neutral colour theme and artful floral and greenery, The Style Co is the answer for you. When the weddings held in an industrial warehouse, a country style vineyard, a hired marquee or Tipi in your dream wedding place, I will choose Style Co above others.
---
5. Designer Wedding Dress in Melbourne
The bride to be who organize the luxury weddings usually emphasize on wearing something gorgeous and expensive from a designer's shop with reputations. In Melbourne, the figure may be more than $ 10,000. However, this won't stop the brides who plan the luxury weddings purchasing the handcrafted wedding gowns for their dream.
Silvana Tedesco Couture
A female high-end fashion designer, a truly creative spirit, and an artist always push her boundary to improve. This is Silvana Tedesco. You can put the tag, high end, luxury, fashionable and stylish on her handcrafted wedding dress with no hesitation when you walk into her shop on Auburn Road in Hawthorn. Beyond all the above professional side for wedding gowns, she is passionate and energetic female who loves to help the people.
Wedding Video with Bride Wearing Silvana Tedesco's Dress
Wedding Video with Bride Wearing Mariana Hardwick's Dress
Mariana Hardwick
Recent moves to Coventry Street in South Melbourne, Mariana Hardwick is now our neighbors. Leading in the Bridal Couture, Wedding dress, and luxury fashion industry, Mariana Hardwick provides the best Australian made and Europe inspired wedding gowns to combine the vintage luxury and contemporary design.
Anna Campbell
For the bride who goes for Bohemian and free spirit rather than the classic luxury weddings, Anna Campbell is the wedding dress designer perfectly matching your style. The Melbourne local design and hand make can your wedding dress perfectly fit in style, shape and your wedding dreams.
Set in the heart of Brunswick, Belle Mariee Bridal is a truly hidden gem for the luxury wedding dress. Choosing only the best material, crafting the gowns with quality workmanship, focusing on every detail of the dress and delivering the gowns fit you perfectly, Belle Mariee Bridal provides absolutely amazing and impressive modern and contemporary wedding dress for the brides who plan luxury weddings in Melbourne.
---
6. Luxury Bridal Shoes in Melbourne
As we stand on the side of getting gorgeous and stunning images and make you comfortable on the big day, we are really talking something honest. when you choose a pair of high heel bridal shoes, you are bounced to experience some level of discomfort. Although the brands I listed below have a wide range of bridal shoes with both the high heel and flat options, the sandals with killer heels can bring more elegance and match with the luxury weddings.
Jimmy Choo Wedding Shoes
Set in the Chadstone Shopping Centre, Jimmy Choo Flagship store has a Bridal Shoe suite for all luxury wedding planning brides. Undoubtedly, Jimmy Choo provides the widest range of luxury bridal shoes in the world. Viola 110 is my favourite series and probably one of the most popular luxury wedding shoes for the brides
Christian Louboutin Wedding Shoes
whether the Christian Louboutin shoes are comfortable to wear a whole wedding day or not, the inner elegance and grace of this brand have brought the thousands of brides to consider purchasing a pair of "red sole" as their bridal shoes. Killer Hills and Wedding Pumps are both available in their two shops in the heart of Melbourne CBD.
Valentino Wedding Shoes
Studded with the real platinum, all the Valentino Bridal Shoe Collections are specially designed, crafted and finished with the care to every detail. This is why it is one of the most popular choices for brides planning luxury weddings.
---
7. Wedding Cakes in Melbourne
Currently, there is only one I really know about and they can serve with extremely high quality to match your luxury weddings. They are the best wedding cake supplier for many wedding industry insiders.
Nikos Cake
Begin from 1987, this Oakleigh based wedding cake company operated more than 30 years and won multiple awards in the weddings industry. It is now a leading wedding cake supplier for luxury weddings in Melbourne. Always provide the spectacular design and always exceeds your exceptions, this is the Nikos Cake – the only one I can truly recommend on my list for the luxury wedding cake.
https://www.instagram.com/p/BqBdptgBWP4/
---
8. Wedding Car Hire Melbourne
Triple R Luxury Car Hire
Operating for more than 35 years and served more than 20,000 couples over these years, this is a luxury wedding car hire company you can truly trust. From weddings we co-work with them, it is always on time. They provide the widest range of the luxury wedding cars in Melbourne, so go their Brunswick East headquarter and find your dream wedding car.
Always Classic Cars
Always Classic Cars is another Luxury wedding car hire company who served in the industry for more than 30 years. Multiple award winner in the wedding industry and highly rated by their customer on Google and Facebook, Always Classic Cars has a wide range of vintage, style and luxury cars available for hire. The professionally trained chauffeur will guarantee you have an on-time and comfortable day.

---
9. Wedding Entertainment in Melbourne
Baker Boys Band
Top Dog Entertainment
These two are the best bands we worked with before for the luxury weddings except the Middle Eastern ones. They are all truly professional, highly energetic, perfectly use the music to create a relaxed atmosphere for the wedding night.
Micky Music-Man G
When it comes to the Middle Eastern luxury wedding, things got changed. The bride and groom have their own preference and concerns. Drumming is needed during the day and night celebrations. Micky and his boys always select the best Arab wedding music and give the energetic performance for the reception intro.
---
10. Wedding MUA and Hair Stylist in Melbourne
Christina Sikalias
KYK Hair
Top tier luxury wedding MUA and hair stylist gown up in Melbourne and service internationally. Both of them are highly recognized on Facebook and Instagram.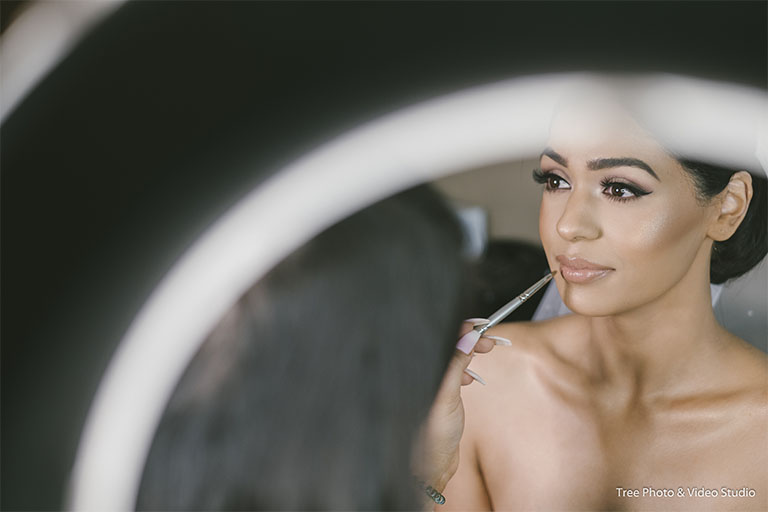 ---
11. Best Wedding Photography and Video in Melbourne
Finally, it comes to my most familiar part of the wedding. When we discussing luxury weddings, couples are after the most epic and impressive wedding images and video. We are definitely one of the best photographer and cinematographer in Melbourne.
when you have the photography and cinematography from different studios, the most important thing is you have to make sure that your wedding photographer and cinematographer can get along with each other. No matter you have noticed or not, they are often fighting for the time, angle and opportunity to shoot. Most luxury weddings choose the full day package for wedding photography and video. However, the time and angle are just not enough at a certain time and place. 
Wedding Photography and Video Together
TREE Photography and Video
This is us. Our photography style is more natural and candid, while our video is more modern and dramatic. We respect the cultural diversity for different background weddings. Arab weddings, Italian weddings, Greek weddings, Macedonian weddings and Australian weddings are all that we are good at. Our photographers and cinematographers have been professionally trained together, so we won't mess up each other's work. We are able to deliver same day editing photography and video during the reception simply because the teamwork and chemistry we build for a long time.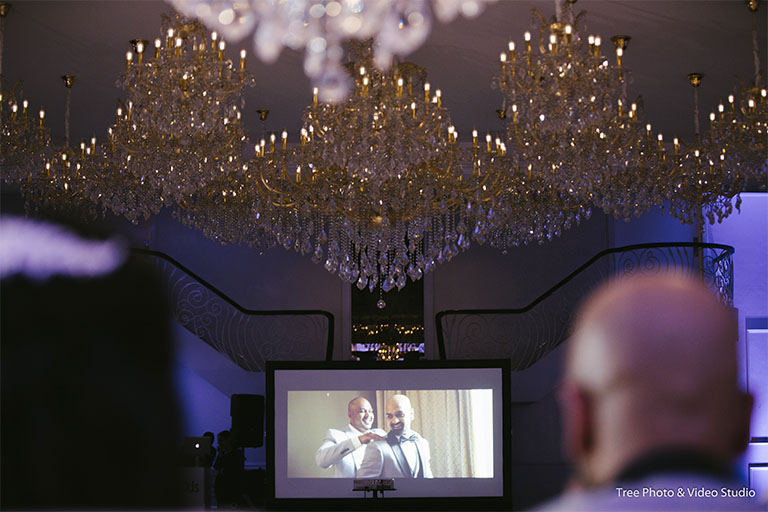 ---
Conclusion
As I mentioned in the beginning, organizing a luxury wedding could be overwhelming and complicated. Hopefully,  my list for luxury wedding venues and suppliers in Melbourne could help you to run you big day seamlessly and stress-free. There is another blog gives A Guide for Wedding Planning Checklist. If you have any questions about your luxury wedding in Melbourne, please do not hesitate to contact us. We are more than happy to use our experience and wedding industry insider's sight to help you. Hope you enjoy the journey to plan your luxury wedding.
> We Would Love To Hear From You
---